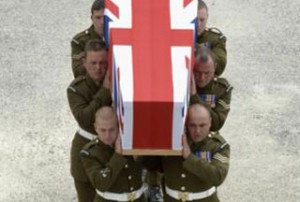 A British soldier has been killed in a powerful explosion in southern Afghanistan, where foreign forces are struggling with rising militancy.
Britain's Ministry of Defense said in a statement that the trooper died while on foot patrol near Sangin in Helmand Province.
The trooper was the third to be killed in the region since Sunday. This year has been the deadliest for foreign troops in the war-torn country.
Some 243 British soldiers have died in Afghanistan since the US-led invasion in 2001, sending the British public support for the notorious war plunging.
This year alone, almost 500 foreign troops have lost their lives in Afghanistan, with Americans accounting for more than 300 of the casualties.
Military operations in Afghanistan have also many thousands of Afghan civilians. The International Committee of the Red Cross says the number of civilian deaths in southern Afghanistan have increased by about 20 percent this year.