Human Rights
North America
Canadian genocide to blame for native deaths, disappearances: Inquiry
A national Canadian inquiry has found the Ottawa government complicit in a "genocide" that has led to the death and disappearance of thousands of indigenous women and girls in the country over the past decades.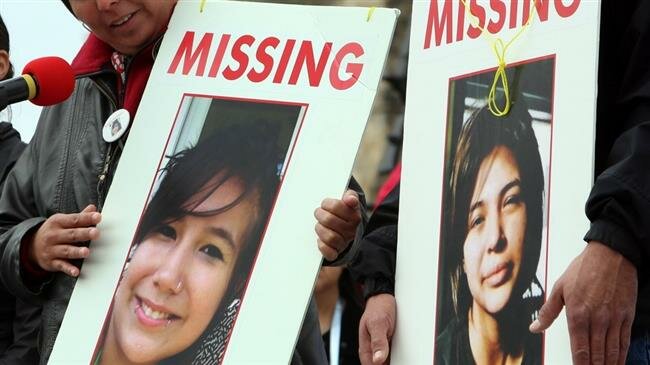 The National Inquiry into Missing and Murdered Indigenous Women and Girls was set to release the full 1,200-page report later on Monday.
According to excerpts of the report leaked by the CBS News, the violence these victims have faced over the years occurred through "state actions and inactions rooted in colonialism and colonial ideologies," it read.
The probe was launched in 2016 after incessant calls by survivors and activists for justice for the victims. Headed by four sitting commissioners, it has investigated close to 1,500 people, including family members, experts, and officials in its quest for clues into systemic causes of the forms of violence faced by the victims.
The report makes no less than 231 recommendations on what should be done in response to the "genocide."
Among them are sweeping reforms to the justice system and policing, according to the CBS report.
The inquiry further accuses the justice system of treating cases of native deaths with discrimination.
Too often, murder investigations are "marked by indifference" and negative stereotypes, the report says. And when there is a reasonable chance of a conviction, Crown attorneys too often are willing to accept plea bargains or reduced charges in exchange for guilty pleas, it adds.
It also advises replacement of the country's tailor-made policing approach towards the indigenous.
"The federal government's First Nations Policing Program must be replaced with a new legislative and funding framework, consistent with international and domestic policing best practices and standards…," the inquiry notes.
In the same year as the inquiry was launched, Minister of Status of Women Patricia Hajdu acknowledged that the number of the native women, who have been murdered or gone missing over the previous three decades in the country might stand at four thousand.
Back at the time, CBC reported that activists had collected at least 4,232 names of missing or murdered indigenous women.