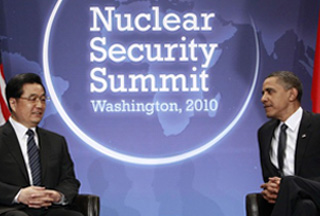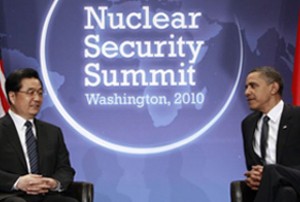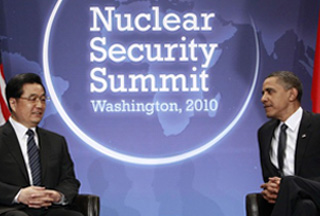 Chinese President Hu Jintao has asked his US counterpart Barack Obama to give diplomacy a chance in dealing with Iran's nuclear program.
Hu said on Monday that China wants "effective ways" to resolve the impasse over Iran's nuclear program through talks.
"China hopes that various parties will continue to step up diplomatic efforts and actively seek effective ways to resolve the Iranian nuclear issue through dialogue and negotiations," Ma Zhaoxu, a Chinese spokesman, said after a meeting between the two leaders in Washington on the sidelines of the Nuclear Security Summit.
The two countries "share the same overall goal on the Iranian nuclear issue," AFP quoted Ma as saying.
The United States and its Western allies are trying to draft a new UN Security Council resolution imposing sanctions on Iran over its nuclear activities.
But China and Russia are reluctant to support a new round of sanctions, saying the issue should be resolved through diplomacy.
Meanwhile, a US official has claimed that Obama and Hu have reached consensus on cooperation to draft a new sanctions resolution against Iran.
"The two presidents agreed the two delegations should work together on sanctions," said White House national security aide Jeff Bader.
However, Russian President Dmitry Medvedev told ABC News on Monday that imposing energy sanctions on Iran could lead to a "humanitarian catastrophe."
Iran, a member of the IAEA and a signatory to the Nuclear Non-Proliferation Treaty (NPT), has repeatedly declared that its nuclear program is peaceful, rejecting Western allegations that it has a clandestine nuclear weapons program.