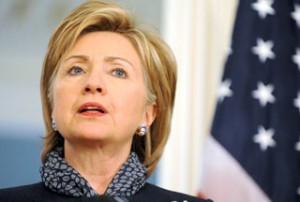 US Secretary of State Hillary Clinton has called a move by ousted Honduran President Manuel Zelaya to cross the border into his homeland "reckless."
Zelaya briefly crossed the Honduran border on Friday before quickly returning to neighboring Nicaragua to avoid arrest. The incident occurred almost a month after the country's military sent him into exile.
The Honduran military is known to be trained by the US military before Zelaya elected as president in the Latin American state and ended his country's alliance with Washington, its traditional ally, and teamed up with Venezuela, Ecuador and other anti-US leftist leaders in the region.The military has a history of dictating governmental policies and legislations.
Clinton called the act "reckless", adding that it would not help restore democratic and constitutional order in Honduras.
She also stressed the Obama administration's support for the proposal put forth by Costa Rican President Oscar Arias, which includes an 11-point plan to reinstate Zelaya and offer amnesty to the leaders of the coup.
Zelaya, however, said he was forced to act on his own after the US-backed talks failed to reach an agreement with the coup-installed government to reinstate him.
The interim government has vowed to arrest him if he tries to return.
Earlier in the day, security forces fired tear gas at dozens of pro-Zelaya supporters trying to reach the border to greet the president near the coffee town of El Paraiso.
Several people have reportedly been wounded in the clashes.
According to a Press TV report, the Honduran Army has also imposed a curfew on the entire district near the Nicaraguan border crossing.
Meanwhile, Mark Weisbort of the Washington-based Center for Economic and Policy Research told Press TV that Honduras-based human rights groups are worried that the interim government is adopting a repressive policy of selective assassination, similar to the one incorporated in the 1980's.
Some regional leaders believe that the US — despite its condemnation of the incident — was actually behind the June 28 military coup against Zelaya in a bid to undermine the new alliance formed by socialist heads-of-state in Latin America.