Iran
Middle East
North America
Commander: Iranian Army Ground Force's Combat Power Not Affected by Coronavirus
Commander of the Iranian Ground Force Brigadier General Kiomars Heidari underlined that the spread of coronavirus has not left any negative impacts on his forces' combat power, saying that new military equipment will be unveiled on the occasion of Army Day in Iran (April 17).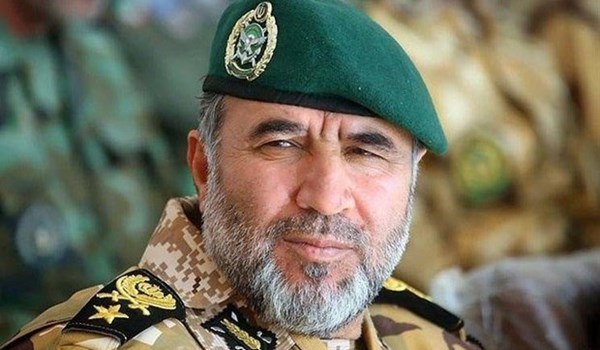 "We had adopted measures in order for our assistance to people (during the coronavirus epidemic) not to leave any impact on our combat power because we already had formed units special to such conditions, including the modern war units," General Heidari said in a press conference on Tuesday.
Elsewhere, he said that although the Army Day parades have been cancelled across Iran due to the coronavirus epidemic, the Ground Force will unveil new equipment, including tools to diagnose and confront coronavirus, and military equipment like Kian-500, Kian-600 and Kian-700 vehicles and anti-armor missiles.
The Iranian Armed Forces have been actively involved in anti-coronavirus activities across the country.
General Heidari announced last month that the military body would use three types of home-made vehicles to disinfect and sanitize public places in big cities across the country to further contribute to the national campaign against the new coronavirus outbreak.
He said that three types of new domestic vehicles have been designed and produced and will be used for disinfecting public places.
Also, late in March, the Iranian Army launched a medical center with 2,000 beds at Tehran International Permanent Fairground special to the coronavirus patients who are recovering from the deadly disease.
The medical complex, prepared within 48 hours, was inaugurated in a ceremony in the presence of Army Chief Commander Major General Abdolrahim Mousavi, General Heidari, Deputy Chief of Army for Coordination Rear Admiral Habibollah Sayyari, Deputy Health Minister Iraj Harirchi and the Armed Forces' Deputy Commander for Health and Treatment Brigadier General Hassan Araqizadeh.
The medical center has 2,000 beds, and according to the Army, the number can be boosted to 3,000.
Addressing the ceremony, General Heidari said that the Army has launched 27 hospitals and 4,750 hospital beds across the country so far, stressing readiness to prepare 8,000 others.
Also, Rear Admiral Sayyari said that the Army is well-prepared to thwart any threat thanks to combat capability.
Iranian health ministry announced on Monday that 1,617 more cases of coronavirus infection have been identified in the country, adding that the virus has killed 4,585 people so far.
"1,617 more patients infected with COVID-19 virus have been identified in the country since yesterday, increasing the total number of coronavirus patients in Iran to 73,303 people" Iranian Health Ministry Spokesman Kianoush Jahanpour said on Monday.
He added that 4,585 people have lost their lives due to infection to the virus, including 111 in the past 24 hours.
Jahanpour, meantime, said that 45,983 infected people have been treated and dismissed from hospital, wishing rapid recovery for 3,877 patients who are in critical conditions.
He noted that 275,427 coronavirus diagnosis tests have been carried out in the country so far.
The coronavirus COVID-19 is affecting approximately all countries and territories around the world. The virus was first reported in the central Chinese city of Wuhan late last year. It has so far killed more than 119,700 people and infected over 1.92 million others globally.