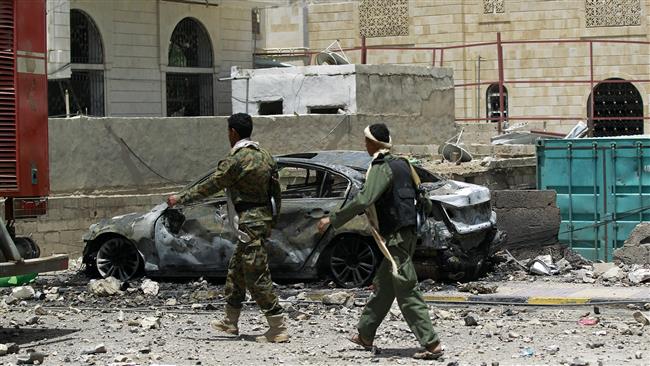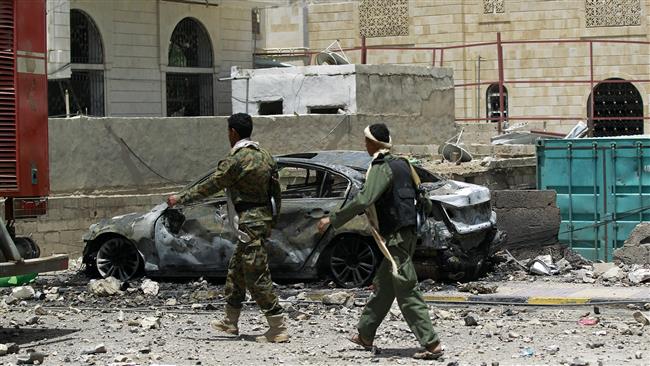 The World Health Organization (WHO) says the death toll from the ongoing conflict in Yemen has now gone beyond 1,000.
This photo shows that Yemeni soldiers walk along a damaged street following a Saudi airstrike against a missile depot on Fajj Attan hill in the southern part of the capital, Sana'a, April 20, 2015. (© AFP)
On Thursday, the Geneva-based UN body said at least 1,080 people, among them 48 children and 28 women, had been killed in the crisis-hit Arab country, and a further 4,352 people had been injured in the violence between March 19 and April 20.
A great proportion of the casualties were recorded in the capital, Sana'a, where a total of 209 people, including 21 children and five women, lost their lives. Another 936 people, including 84 children and 44 women, sustained injuries there.
A total of 191 people, including two children, were killed in Yemen's southern port city of Aden, situated 346 kilometers (214 miles) south of Sana'a, while another 1,237 were injured.
The WHO toll did not distinguish between civilians and non-civilians.
Meanwhile, the Human Rights Watch (HRW) has slammed a Saudi airstrike targeting a warehouse belonging to the international aid and development organization, Oxfam, as an "apparent violation of the law of war."
The New York-based rights organization said on Thursday that, based on the law of war applicable to the crisis in Yemen, civilians and civilian objects may never be "deliberate targets of attack."
Saudi Arabia started its military aggression against Yemen on March 26 – without a UN mandate – in a bid to restore power to fugitive former President Abd Rabbuh Mansur Hadi, who is a close ally of Riyadh.
On April 21, Saudi government spokesman Brigadier General Ahmed al-Assiri announced the termination of the first phase of the Saudi raids against Yemen.
He said that Saudi Arabia would launch a second phase of the aggression, targeting what he said would be the positions of popular committees in Yemen.