North America
Democracy Spring protests blast 'big money' in US politics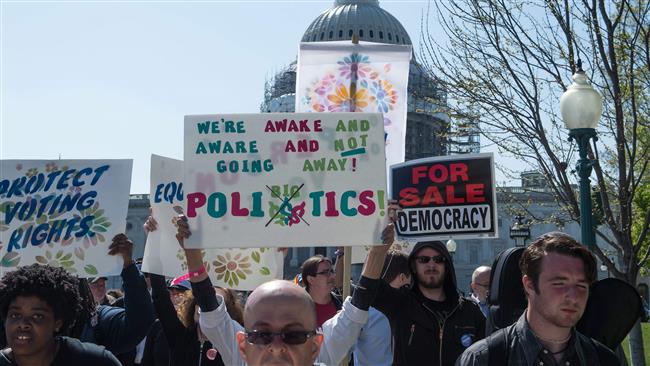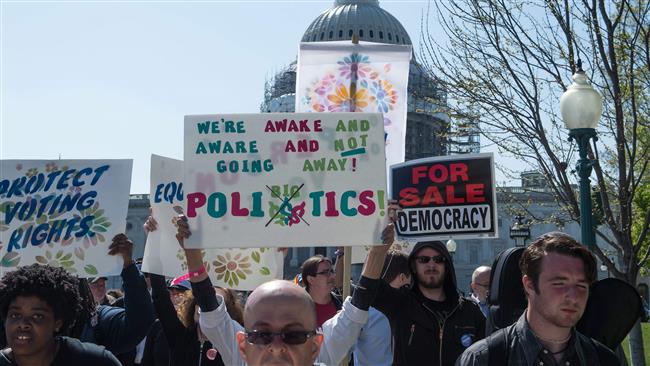 Police made dozens of arrests as Americans held nationwide protests to denounce big money and corruption in US politics.
In Washington, hundreds of protesters gathered on the Capitol Hill on Friday, chanting "money out, people in," among other slogans. It was one of some 30 demonstrations staged across the United States on Friday.
Police arrested about 140 protesters from a grassroots activist group called Democracy Spring for refusing to leave steps of the Capitol building, bringing the total number of arrests made this week to about 800.
About a dozen protesters had cuffed themselves to scaffolding in the rotunda of the Capitol, the seat of the US Congress.
"We the people demand a democracy free from the corruption influence of big money and voter suppression," the protesters said in unison. "We demand a democracy where every vote is counted and every voice is heard."
The protesters also slammed the undue influence of special interest groups in US elections.
The Democracy Spring demonstration followed similar protests all week in Washington including a sit-in on the steps of the Capitol.
"The overall majority of Americans believe that the way the campaigns are financed in the country disenfranchises ordinary people," Kenneth Martel, a Democracy Spring organizer, told the Xinhua news agency.
"There is a lot of corruption in our government. There are a lot of connections between corporation and politicians," said David Serrano, who came from Denver, Colorado. "I came here today to lend my voice to this very important issue."
The Democracy Spring movement is gaining momentum after a march from Philadelphia, Pennsylvania, and peaceful protests in Washington. It is tapping into some of the voter frustration seen in the 2016 presidential race.