Economy
Iran
Middle East
North America
FM: Iranians to Firmly Resist US Brutal Sanctions
Foreign Minister Mohammad Javad Zarif blasted the US' new sanctions against Iran, and said that the Iranian people will survive such brutalities as they have done so far.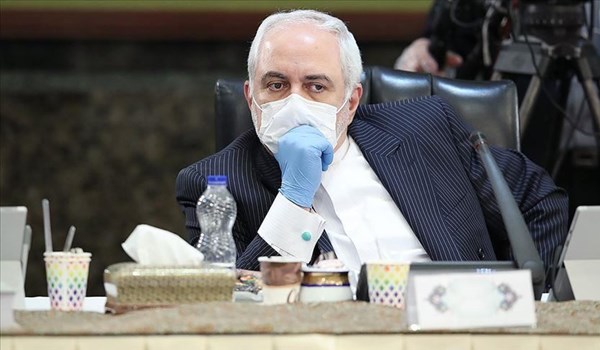 "Amid COVID-19 pandemic, the US regime wants to blow up our remaining channels to pay for food & medicine," Zarif wrote on his Twitter account on Thursday.
"Iranians WILL survive this latest of cruelties," the Iranian foreign minister added.
Zari underlined that conspiring to starve a population is a crime against humanity, and said, "Culprits & enablers—who block our money—WILL face justice."
The Trump administration decided to impose new sanctions on Iran's financial sector in defiance of European allies who warned that the move could have devastating humanitarian consequences on the country.
In relevant remarks on Wednesday, Iran's Representative at the Third Committee of the UN General Assembly Mohammad Zareyian warned that the US sanctions have blocked easy access to humanitarian goods and are endangering lives of millions of people who face the coronavirus outbreak.
"The United States' insistence on continuing–or even doubling down– on its illegal sanctions policy is not only immoral and against international law, but also endangers the lives of many people fighting the coronavirus across the globe. Contrary to the US claims, humanitarian goods and services are affected by the cruel sanctions. Financial institutions fear the US vengeance, which is why the financial channels created to facilitate transactions for humanitarian commodities, have had no tangible results," Zareyian said, addressing the 75th session of the Third Committee.
"The inhumane unilateral coercive measures have blocked Iran's efforts to import medicine and other medical supplies needed to fight the pandemic, thereby denying Iranians the right to health and to life. The unlawful sanctions have dealt a hefty blow to the very basic and fundamental rights of my people. And now, the ironic tragedy is that the US and its blind followers who confirm the unilateral coercive measures feel they can lecture us on human rights," he added.