Middle East
North America
Saudi Arabia
World News
Yemen
Global arrogance, led by US, attempting to dominate Muslim world: Houthi
The leader of Yemen's Houthi Ansarullah movement has warned against fiendish plots by arrogant powers, particularly the United States, to dominate the Muslim world, saying dictators in a number of Islamic states have deprived their nations of sources of power and plundered natural wealth.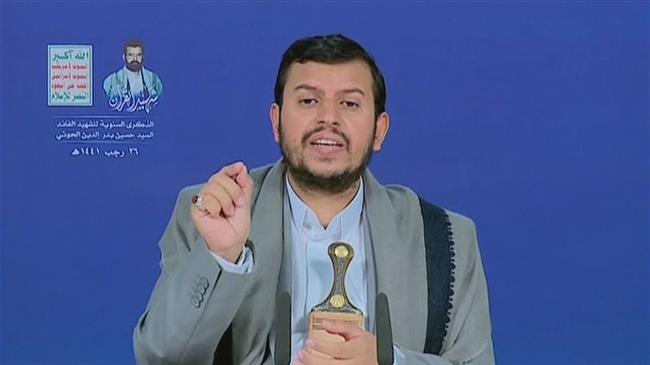 "Hussein Badreddin al-Houthi, who was assassinated by forces loyal to slain former Yemeni dictator Ali Abdullah Saleh back in 2004, was a heroic figure and held anti-arrogance positions," Abdul-Malik al-Houthi said in a televised speech broadcast live from the capital Sana'a on Saturday afternoon.
"Dictators in some Islamic countries, including Yemen, have deprived their peoples of sources of power and looted their wealth. That accounts for their weakness in the face of US attacks and offensives."
The Ansarullah chief then criticized certain Muslim states for inaction toward the White House policies and Israeli plots, stating that some parties have even capitulated to their demands and are advancing anti-Islamic scenarios that serve the interests of Washington and Tel Aviv.
Houthi called on the Muslim Ummah to act rather than make mere statements in the face of global arrogance.
Yemeni forces seize major military base in Ma'rib from Saudi-backed Hadi loyalists: Report Yemeni army soldiers and allied fighters from Popular Committees have reportedly seized control of a major base in Ma'rib province from Saudi-backed Hadi loyalists.
"(The Holy) Quran invites all Muslims to resistance and perseverance. One who chooses Quran over the enemies of Islam will eventually emerge victorious. On the contrary, one who sides with the enemy is doomed to failure and fiasco. Adverse repercussions await those who support such an option," he underscored.
The Ansarullah leader went on to say that the current circumstances in Iraq and Syria, inveterate hostility toward the Lebanese resistance movement Hezbollah, conspiracies against the Palestinian nation as well as the negative views on the Palestinian resistance groups are all indicative of Washington's aggressive policies in the region.
"Nowadays, the Saudi regime arrests and prosecutes Hamas leaders and figures affiliated to it. Such people are indeed seeking to liberate al-Quds (Jerusalem) and Palestine, and bear enmity toward Israel. The liberation of al-Quds and other sacred sites is vehemently condemned by Saudi authorities and viewed as a criminal act," Houthi stated.
He said Saudi Arabia and the United Arab Emirates were nothing but pawns in the hands of the US, emphasizing that the deadly campaign against Yemen was aimed at bringing the impoverished country under the yoke of the regimes in Riyadh and Abu Dhabi in particular, and Washington in general.
Elsewhere in his remarks, Houthi touched down on the novel coronavirus pandemic, claiming that some states, including the United States, may be manipulating viruses in sophisticated laboratories to use against adversaries.
Ansarullah: Saudi-led invaders to blame if virus reaches Yemen Yemen's Houthi movement says the Saudi-led coalition will be to blame for a possible outbreak of the coronavirus in the war-torn country.
"Colonial powers, among them the US, must be held accountable first and foremost for the coronavirus pandemic. Americans, Israelis and their allies have no reservations whatsoever to use viruses, like COVID-19, weapons of mass destruction and internationally-banned munitions against humankind."
Houthi said he cannot rule out Washington's role in the spread of coronavirus, even if it could harm the American society itself.
"Any spread of coronavirus to Yemen would be done under the supervision of the US and by its pawns such as Saudi Arabia and the UAE. The Yemeni people and government will stand against such bids, and will fight coronavirus."