Middle East
North America
Syria
Great Satan US Plotting to Occupy Bukamal, Al-Mayadeen Cities in Eastern Syria
The US plans to occupy the strategic border regions in Eastern Deir Ezzur, including the cities of Bukamal and al-Mayadeen, through launching attacks and urging the US-backed militants to recruit more forces in besieged al-Rukban Camp, Syrian media said.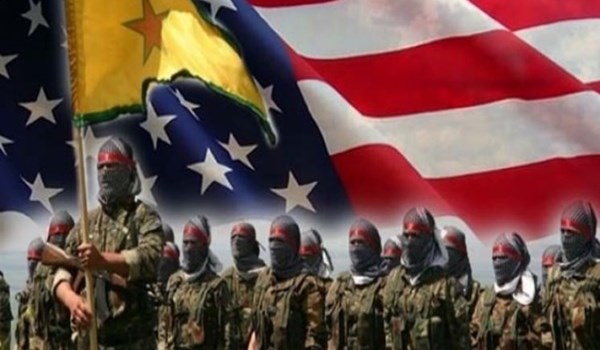 The Arabic-language Al-Watan newspaper quoted sources close to militants as saying that the US-backed Jeish Maghavir al-Thura has forced tens of youth in al-Rukban Camp to join their ranks in al-Tanf region near the borders with Iraq.
It pointed to the intensive military training given to the people, including light and heavy weapons, and said this attempt is taking place in line with imminent US attack on the Syrian Army as well as an attempt to occupy the two strategic cities of Bukamal and al-Mayadeen in Eastern Deir Ezzur.
Al-Watan newspaper also quoted informed sources as saying that the Syrian Democratic Forces (SDF) backed up by the US-led coalition forces have dispatched elite forces to al-Amr Oil Region.
The sources also pointed to efforts by the SDF to send further equipment to the region, and said that the main aim for this operation is cutting the international Beirut-Damascus-Baghdad-Tehran road.
In a relevant development on Saturday, media reports revealed that Washington had dispatched new military aid to the Syrian Democratic Forces in Eastern Euphrates after declaring an end in the war on ISIL.
The London-based Syrian Observatory for Human Rights (SOHR) reported on Saturday that the US-led coalition has sent new military convoys, including tens of trucks carrying military aid and logistical equipment, from Iraqi Kurdistan region to areas occupied by the SDF in Eastern Euphrates.
It added that over 810 trucks, carrying military and logistic equipment of the US-led coalition have arrived in Eastern Euphrates.
Last month, Washington-backed Kurdish fighters in Syria declared their final victory over the ISIL terrorist group, ending bloody battle against the group that once held territory spanning a third of Syria and Iraq.
The US Defense Department also announced that the Islamic State no longer holds any territory in Syria, according to former White House Spokeswoman Sarah Sanders.
In December 2018, US President Donald Trump declared the ISIL terrorist group defeated in Syria and announced American troop pullout from the country but gave no timeline. The surprise announcement resulted in the resignation of Secretary of Defense James Mattis, US anti-IS coalition envoy Brett McGurk and Pentagon Chief of staff Rear Admiral Kevin Sweeney who disapproved of the American president's decision.
But, Trump confirmed that 400 US soldiers will remain in the war-torn country indefinitely.
Notably, the US troops have been operating in Syria as part of an international coalition for about five years without the permission of Syrian authorities or the UN Security Council. The United States has, in particular, supported the Kurdish-led militia controlling the territories to the East of the Euphrates and opposing the Syrian government.