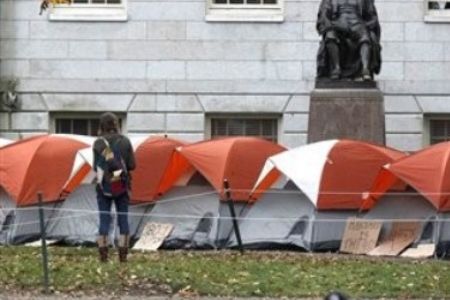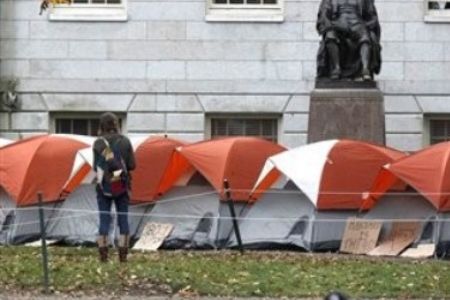 Tens of Harvard University professors in the US have voiced their support for the 'Occupy' encampment on the university's campus, demanding an end to restrictions imposed on it.
Twenty-nine professors at the American university showed their support for the movement by collaborating on a letter to the university's president, Bostinnovation.com reported.
"We consider the decision to lock the gates of Harvard Yard inconsistent with the University's commitments to open inquiry and inclusiveness," the letter said.
During the last two weeks, students have been occupying Harvard Yard, rallying for "a more ethical and socially responsible institution," as well as voicing solidarity with the nationwide Occupy Wall Street (OWS) movement.
However, the gates to Harvard Yard have been locked and are being monitored by security guards.
The Occupy movement emerged after a group of demonstrators gathered in New York's financial district on September 17 to protest against the unjust distribution of wealth in the country and the excessive influence of big corporations on US policies.
Despite police crackdowns and mass arrests, the Occupy protests, which grew out of the OWS movement, have now spread to many major US cities as well as to Australia, Britain, Germany, Italy, Spain, Ireland, Portugal and other countries.