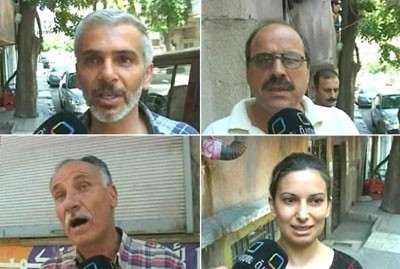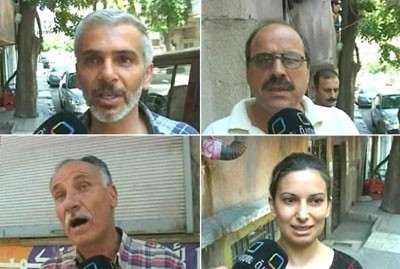 Scores of Homs people on Friday condemned the crimes committed by the armed terrorist groups who are clearly supported by US, France, Israel and their regional allies, stressing their absolute rejection of undermining the safety of citizens and homeland.
In interviews with the Syrian TV, they condemned all terrorist acts, voicing gratitude for the army for responding to their demands for the army to protect them from the terrorist groups that try to provoke sedition among people.
Mohammad al-Tabban, Lawyer from Bab al-Siba'a in Homs, said "About three weeks ago, armed terrorist groups came from the area of Bab al-Khaldiya… They set fire to cars, broke into stores and attacked citizens for not participating in the protests, they entered the mosque of Khalid Ibn al-Walid and vandalized it".
It is clear that these gangs are externally supported and financed, but some media intentionally try to blame Syrian Security Force for the instability. The media which is responsible for misleading and misinforming the world is origionally US financed and backed up.