Asia-Pacific
India
Iran
North America
India's Modi faces increasing pressure over compliance with US sanctions against Iran amid elections run
India's opposition parties have slammed Prime Minister Narendra Modi for complying with US sanctions against Iranian oil exports, denouncing it as an "attack" on the country's sovereignty as India's weeks-long general elections continue.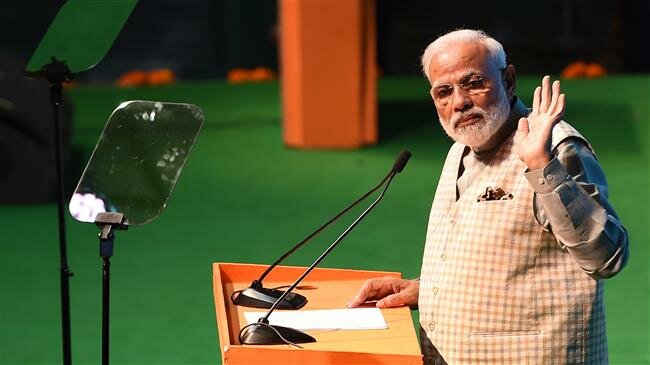 Modi is also under fire from the opposition for his government's inability to negotiate the country's interests in the face of Washington's ban, Bloomberg reported on Thursday.
Decrying Modi's silence towards the potentially damaging US embargo on Iranian oil, Indian Congress Party lawmaker and national spokesman Randeep Singh Surjewala blamed the prime minister of "falsely boasting of his bravery" in a tweet earlier this week.
"The US ban on exporting crude oil from Iran to India, is it not an attack on India's sovereignty?" he said.
The Communist Party of India also condemned Modi's compliance with Washington's policies.
"Any step to stop importing oil from Iran will harm India's energy security and national interests," the communist party said in a statement.
The party also called on Foreign Minister Sushma Swaraj to reject Trump's "illegal" move.
"Since the US has unilaterally imposed these illegal sanctions, the BJP-led government must reject these sanctions and continue to buy oil from Iran which is in the country's interests," the party said.
India, an emerging Asian economic powerhouse, is one of the world's biggest importers of Iranian crude oil. Indian observers believe complying with the US ban will greatly jeopardize India's interests.
Heightening criticism of Modi's government comes as the White House ended, earlier this week, six months of waivers which previously allowed Tehran's eight largest customers to continue importing limited volumes of Iranian oil.
The measure threatens buyers of Iranian oil with sanctions and other penalties if they fail to stop their purchases by May 1. The move quickly sent global crude prices to their highest levels since last November.
Modi needs all the votes he can grab to win the elections, which beganApril 11.
Foreign Minister Sushma Swaraj had previously said that Delhi will only comply with sanctions imposed by the United Nations and not those imposed by any other country, such as the US.
Iranian officials have cast doubt on claims that other oil producers can effectively replace Iranian oil to avoid spiking oil prices.
India will not follow US sanctions on Iran: FMThe Indian foreign minister says New Delhi will only follow UN sanctions and not those imposed by any other country, such as the US, against Iran.
Other countries affected by US sanctions have so-far also opposed the expected move, citing tight market conditions and high fuel prices that are harming oil-dependent industries.
China warned on Tuesday that the US decision to impose sanctions on buyers of Iranian oil will "intensify turmoil" in the Middle East and in the international energy market.
South Korea and Japan have sought negotiations with the US calling on Washington to backtrack on its decision.
Speaking on Friday, Turkish Foreign Ministry spokesman Hami Aksoy also said that Ankara is negotiating with Washington to allow Turkey's biggest oil importer Turpas to continue buying oil from Iran.
The US president withdrew Washington in May 2018 from a multilateral nuclear accord that was signed between Iran and six world powers — the US, the UK, France, China, Russia and Germany– in 2015. Officially known as the Joint Comprehensive Plan of Action (JCPOA) the deal put limitations on parts of Iran's peaceful nuclear program in exchange for removing all nuclear-related sanctions.
Washington, however, has re-imposed the unilateral sanctions and introduced new ones since abandoning the accord.
Last November, the US enforced sanctions targeting the Islamic Republic's banking and energy sector. However, it granted waivers to eight major importers of Iran's oil, including China, India, Japan, South Korea, Taiwan, Turkey, Italy and Greece, fearing market instability.