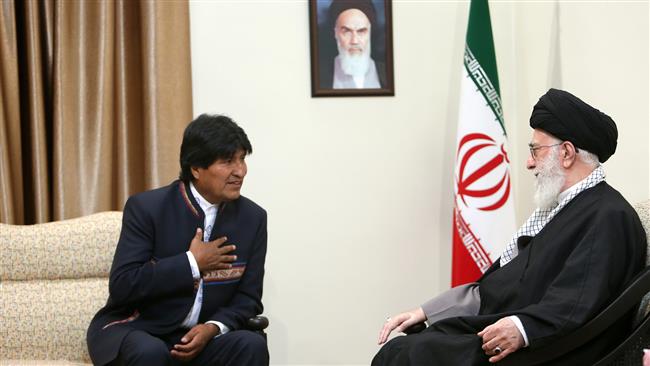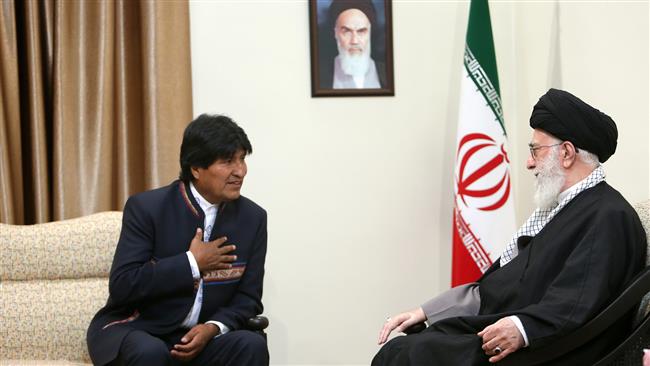 Leader of the Islamic Revolution Ayatollah Seyyed Ali Khamenei says Iran throws its weight behind those standing up to bullying and hegemony across the globe.
"The Islamic Republic of Iran supports anyone, wherever in the world, who resists bullying and hegemony," Ayatollah Khamenei told Bolivian President Evo Morales in a meeting in Tehran on Tuesday.
The Leader hailed the "appealing and heroic" resistance of Bolivia and some other Latin American states against the bullying of hegemonic powers and said the US is pursuing a dangerous policy across the world, aimed at changing the identity of youth.
"If the Americans succeed in this policy and manage to change the youths' [way of] thinking into 'the American [style of] thinking,' they (Americans) will dominate countries without [having to foment] any military coup and [having to take any] tough actions," Ayatollah Khamenei stated.
The Leader stressed the importance of resisting against such a hegemonic policy by strengthening one's resolve and enhancing cooperation.
In this regard, Ayatollah Khamenei praised Bolivia's resistance against the US excessive demands.
The Leader said Iran was the "first country in the world to fully break free from the US dominance" thanks to a popular movement led by the late founder of the Islamic Republic Imam Khomeini, adding that the Iranians resisted military, security and economic pressure by the then empires of East and West.
The Leader added that Bolivia's great potential and its relations with Iran can strengthen resistance against bullying powers.
The Bolivian president, for his part, expressed pleasure over his meeting with Ayatollah Khamenei and said the US intervention in the countries' domestic affairs has been troublesome.
"We regard His Excellency as the father and guide of all independent revolutions and particularly the revolutions in the Latin American region and we have learnt many lessons from your valuable, inspirational and heartening speeches," he said
He added that after taking office in 2006, he had dismissed the US warning against relations with Iran and said: "We are an independent country and we do not ask anybody's permission for our relations with others."
Morales stressed that Bolivia has never allowed itself to be blackmailed by the US and will never do so.
The Bolivian president further said Iran and Bolivia are two historical, cultural and popular allies and expressed hope that bilateral relations would be broadened in different sectors.