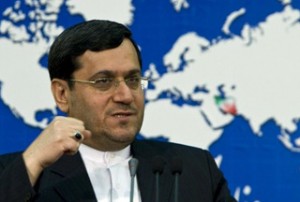 Iran's Foreign Ministry spokesman dismisses as "illogical" any comparison between the killing of Muslims in China, the atrocities in Gaza and the murder of Marwa el-Sherbini in a German court.
Speaking at a Monday press conference, Hassan Qashqavi denied that the Iranian Foreign Ministry had remained silent about the deaths of Chinese Muslims in the northwest Xinjiang-Uighur region.
Almost 200 people were killed recently in the predominantly Muslim region, and the Iranian government has been severely criticized from different quarters for remaining silent in the face of the violence.
The main criticism came from senior religious figures, who objected to the stance taken by the government — which did not react swiftly to the anti-Muslim violence in China — while blasting the murder of a Muslim woman by a criminal in a German court.
Grand Ayatollahs Nasser Makarem-Shirazi and Lotfollah Saafi-Golpayegani were among the senior religious leaders who issued communiqués, decrying the Chinese government's treatment of Muslims and the Iranian government's lack of response over the issue.