Iran
Middle East
North America
World News
Iran parliament designates CENTCOM terrorist in response to US blacklisting of IRGC
The Iranian parliament has overwhelmingly passed a law, which designates American forces in West Asia - known as the United States Central Command (CENTCOM) - a terrorist organization in a counter-measure against the US blacklisting of Iran's Islamic Revolution Guards Corps (IRGC).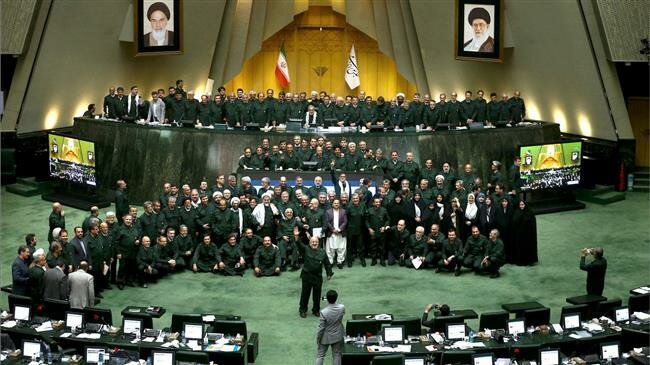 The legislation was approved by 173 to 4 votes, with 11 abstentions at an open parliamentary session in Tehran on Tuesday.
The measure is intended to "reciprocate" Washington's recent labeling of the IRGC a "terrorist" entity, which "undermines regional and international peace and security" and "runs contrary to the principles of international law."
Under the new law, "CENTCOM as well as forces, organizations and bodies under its command, are declared terrorist and providing any assistance – including military, intelligence, financial, technical, educational, administrative and logistical – to these forces in order to counter the IRGC and the Islamic Republic of Iran amounts to collaboration in an act of terror."
On April 8, the White House labeled Iran "a State Sponsor of Terrorism" and the IRGC a "foreign terrorist organization," claiming that the elite force "actively participates in, finances, and promotes terrorism as a tool of statecraft."
America's move against IRGC rooted in rancor: LeaderAyatollah Khamenei says the US has decided to label Iran's IRGC a "foreign terrorist organization" because the force has been on the forefront of the fight against enemies.
In a swift response, Iran's Supreme National Security Council designated the US government a supporter of terrorism and CENTCOM a terrorist organization.
Leader of the Islamic Revolution Ayatollah Seyyed Ali Khamenei said the targeting of the IRGC is rooted in America's "rancor" against the force, which has been at the forefront of the fight against enemies both inside and outside of Iran.