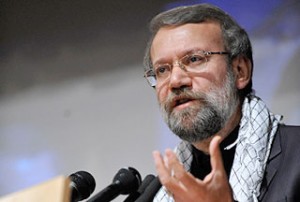 In a rare meeting with Egyptian government officials, Iran's Parliament (Majlis) Speaker Ali Larijani says Tehran and Cairo should put aside their differences with regards to the Palestinian issue.
Larijani, who is Cairo to attend a committee meeting for the Parliamentary Union of the OIC Member States (PUIC), said Sunday that the governments of Iran and Egypt should work together to bring unity to Palestinian factions.
"It is most important for Iran and Egypt to set aside their differences and to focus on bridging the gap between political factions in Palestine," Larijani said in a meeting with Egyptian Foreign Minister Ahmed Aboul Gheit.
Larijani pointed to Egypt's power in lessening the miseries of the beleaguered population of Gaza — which is still shaken by the devastating war waged by Israel last year — by keeping the Rafah border open.
The Rafah border is the only escape route from the Gaza Strip which does not lead into Israel.
"At a time when Palestinians are dealing with a full-fledged crisis, we hope the Egyptian government would step in to help them deal with it," he said.
The comments come as Larijani held constructive talks with his Egyptian counterpart Ahmed Fathi Surur and President Hosni Mubarak.
The meetings are believed to be the first high-level talks between the two countries since they broke off relations in 1980. Tehran was critical of Cairo's peace treaty with Israel.