Awakening
Human Rights
Iran
Middle East
North America
Iranian university students gather outside Swiss Embassy to slam US brutality against Afro-Americans
A group of Iranian university students have staged a protest in front of the Swiss Embassy in the capital Tehran against the recent gruesome killing of African American citizen George Floyd at the hands of a white police officer.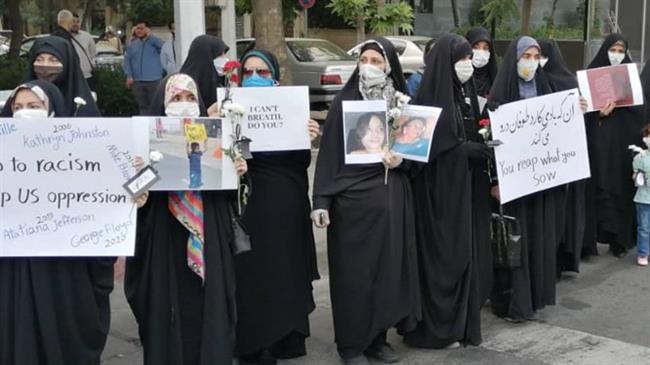 The students gathered outside the Swiss Embassy, which represents Washington's interests in Iran, on Wednesday afternoon to condemn racism in the US and violent suppression of protesters, Fars news agency reported.
The protesters held placards that denounced the US crackdown on the protests against systematic racism in the country.
They also chanted anti-racism slogans while holding pictures depicting the US police brutality against demonstrators.
Foreign students studying in Iranian universities also participated in the Tehran rally.
The protesters also held a candle-lit vigil outside the Swiss Embassy in memory of the victims of the US police brutality.
Floyd, an unarmed African American man, was pinned to the ground by a white officer in Minneapolis, Minnesota on May 25. The officer knelt on Floyd's neck for nearly ten minutes as Floyd pleaded "I can't breathe."
The Iranian Foreign Ministry has strongly denounced rampant bloodshed of African-Americans in the United States and the country's suppression of the protests that have engulfed the US in the aftermath of Floyd's death.
"Iran regrets the tragic murder of black Americans, denounces deadly racial profiling in the United States & urges authorities to do justice for every case," the ministry said in a tweet on Friday.
Since the heart-wrenching murder, protests have been held in hundreds of US cities and National Guard troops have been deployed in at least 23 states to handle the protests.
At least 11 people, many of them African Americans, have been killed during the US protests seeking justice for Floyd while hundreds of others have been injured in the chaos.
Thousands of people have also rallied in different cities across the world in solidarity with anti-racism protests in the US.
Demonstrators from Australia to Europe have identified with the cause of the US protests and urged their own governments to stand up to racism and police violence.
The European Union said it was "shocked and appalled" by the death of Floyd in police custody, calling it "an abuse of power" and warning against further excessive use of force.
"Like the people of the United States, we are shocked and appalled by the death of George Floyd … all societies must remain vigilant against the excessive use of force," Josep Borrell, the EU's foreign policy chief, told reporters.
The Pope has also issued a call for racism not to be ignored.
"We cannot tolerate or turn a blind eye to racism," he said. But he also condemned the violence: "Nothing is gained by violence and so much is lost."