Europe
Iran
Middle East
North America
Qasem Suleimani
Iranians won't be deceived by unbelievable US cooperation offer: Envoy to UN
Iran's UN envoy has dismissed as "unbelievable" Washington's renewed call for cooperation amid mounting sanctions on Tehran and following the assassination of a senior Iranian commander, stressing that the nation "will not be deceived" by such statements.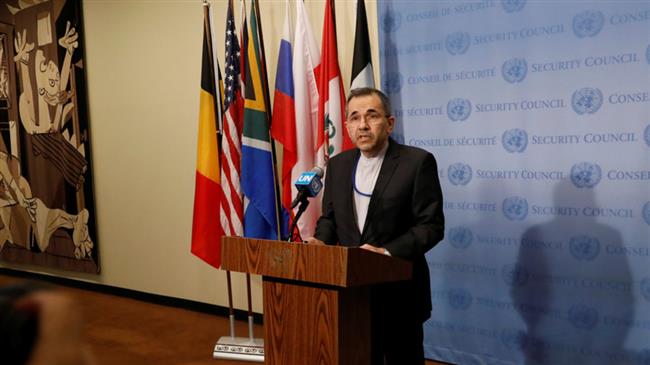 Majid Takht-e Ravanchi made the comments to IRNA on Thursday hours after US President Donald Trump delivered a speech on Iran's missile strikes targeting two American bases in Iraq to avenge Washington's targeted killing of Lieutenant General Qassem Soleimani, a prominent commander of the Islamic Revolution Guards Corps (IRGC).
In his speech, Trump apparently backed down from his earlier threats of more military actions against Iran should Tehran fulfill the promise to take revenge against the US.
Instead, the US president called for diplomacy said "we must all work together" to make a new deal with Iran after Washington withdrew from a 2015 multilateral nuclear agreement.
At the same time, Trump threatened Iran with additional sanctions and said his administration is considering its "options."
Trump says US will impose new sanctions against Iran after Tehran's retaliation US President Donald Trump says his administration will impose new sanctions against Iran following Iran's retaliation for the US assassination of a top Iranian general.
Meanwhile, Takht-e Ravanchi's US counterpart, Kelly Craft, wrote a letter to the UN Security Council, saying Washington stands "ready to engage without preconditions in serious negotiations with Iran, with the goal of preventing further endangerment of international peace and security or escalation by the Iranian regime."
The Iranian ambassador to the UN further said the US has, since withdrawal from the JCPOA, imposed many sanctions on Iran and exerted heavy pressure on the people, in a move that amounts to economic terrorism and violates international law.
Recently, he added, the US "opened a new chapter of animosity" towards the Iranian nation by committing the terrorist act of assassinating General Soleimani.
The Americans offer cooperation while stressing the need for "increasing the sanctions," said the Iranian official. "Their claim sounds unbelievable when we put all these together."
"The US government does not favor dialog but animosity towards the Iranian people," Takht-e Ravanchi noted, emphasizing that "as long as the US continues its hostilities, the talk of cooperation is not comprehensible and that the Iranian people will not be deceived by such remarks."
Acting on Trump's order, the US military a US drone strike early Friday on General Soleimani's motorcade upon his arrival in the Iraqi capital at the invitation of the Baghdad government. The attack also claimed the lives of senior Iraqi commander Abu Mahdi al-Muhandis and a number of their companions.
In turn, Iran acted on its promise to take revenge, raining tens of missiles on two American bases in Iraq.
None of the missiles were intercepted and they hit their targets precisely despite a high level of readiness in US bases across the region.