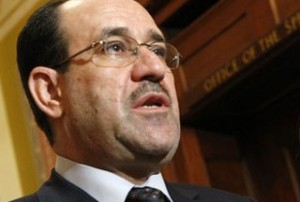 Iraq has filed a lawsuit against Blackwater (now known as XE Services LLC) guards in the United States after they were acquitted on charges of killing 17 Iraqi civilians at a Baghdad traffic circle in 2007.
"For our part, we have formed a committee and filed a case against Blackwater in the United States and will file one here in Iraq," AFP quoted Prime Minister Nouri al-Maliki as saying on Monday.
Last week, US District Court Judge Ricardo Urbina dismissed all charges against the guards, saying the defendants' constitutional rights had been violated.
The five guards were charged with 17 counts of manslaughter, 20 counts of attempting to commit manslaughter and one count of weapons violation.
Maliki, however, said that "the US justice department has protested against this decision."
Government spokesman Ali al-Dabbagh issued a warning to the employees of the Blackwater military firm to immediately leave the country, saying the government had "started to take the necessary measures to bring Blackwater to justice."
Dabbagh said his government was no longer willing to host "any Blackwater member, even if they are working in other companies."
"Instructions have been given to check if there is any Blackwater member [in the country]. I advise him to leave Iraq and not to stay in Iraq anymore," al-Dabbagh told CNN.
Blackwater pulled out of Iraq in May, after the US State Department refused to renew its contracts. The company changed its name to Xe Services LLC last year after the September 2007 incident drew worldwide condemnation.