Iraq
Middle East
Iraqi Forces Win back Nineveh Gas Company as Fresh Anti-Terrorism Operation Kicks off near Mosul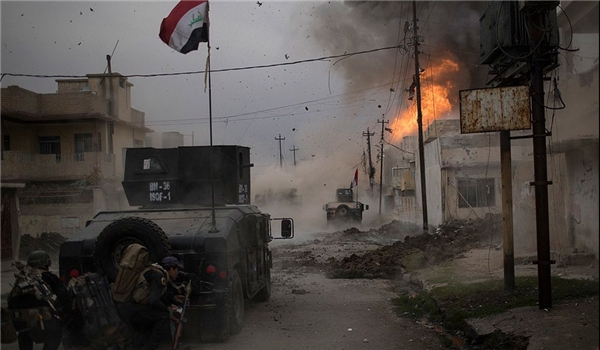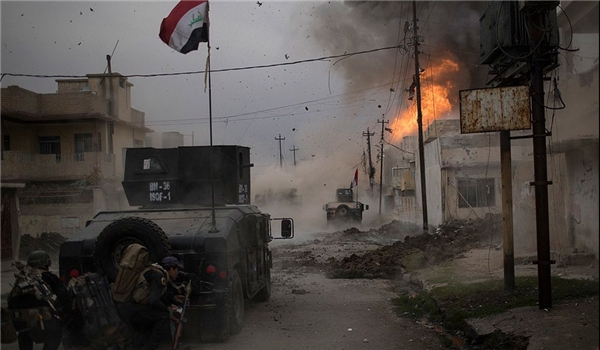 The Iraqi police launched a fresh round of anti-ISIL operation in the North-Western Mosul city, retaking control over the Nineveh Gas Company, the Iraqi Police Chief said Thursday.
Shaker Jowdat said in a statement that his forces have advanced against ISIL from the Northwestern direction of Ahlileh region towards al-Haramat region, capturing the Nineveh Gas Company and the village of Hasouneh.
In the meantime, Abdul Amir Yarullah, the Commander of Qademoun Ya Nineveh (We Are Going to Nineveh) Operation said earlier today that the Iraqi forces' operation is aimed at capturing North-Westerm parts of Mosul city, including the regions of Mosheirefeh, al-Kaniseh and al-Haramat.
A senior Iraqi official also said that the Iraqi forces, backed up by the popular forces, will fully free Mosul from ISIL in less than a month.
Relevant reports said on Wednesday that the Iraqi special forces and police fought ISIL militants to edge closer to the al-Nuri mosque in Western Mosul, tightening their control around the landmark site.
The close-quarters fighting was focused on the Old City surrounding the mosque, where ISIL leader Abu Bakr al-Baghdadi made an infamous sermon nearly three years ago across territory controlled by the group in both Iraq and Syria, NRT reported.
"We are now in the heart of the Old City in the right half of the city of Mosul," Colonel Ibrahim Hwayel said.
 "Forces of the federal police are surrounding the Old City and are advancing cautiously to spare the lives of civilians and protect their properties and houses. Families are fleeing the oppression of ISIL and we are receiving them and evacuating them to safe areas."
Heavy and sustained gunfire could be heard from the Old City area, where militants were hiding among residents and using the alleyways, traditional family homes and snaking narrow roads to their advantage, fleeing residents say.
Mosul, Iraq's second largest city, was captured by ISIL in June 2014. Iraqi and their allied forces liberated the Eastern part of the city in late January 2017. However, a fraction of city's Western part remains under control of the terrorist group.