Iraq
Middle East
Iraqi Hashd al-Sha'abi forces kill, injure dozens of Daesh terrorists in Syria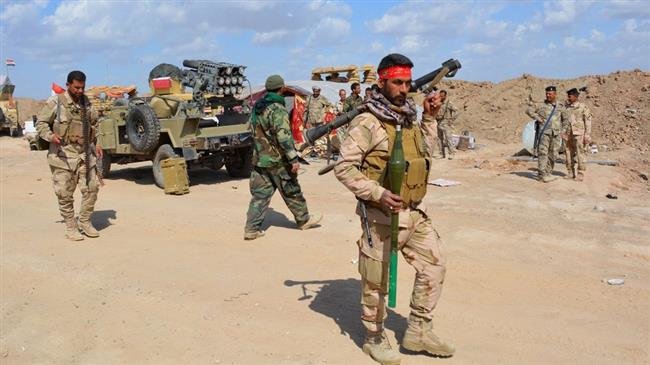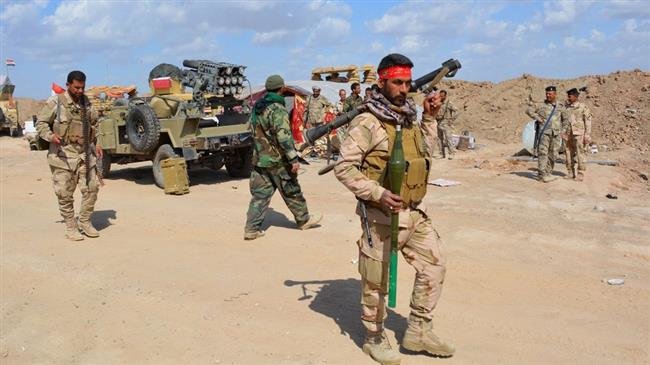 Iraqi pro-government fighters from the Popular Mobilization Units (PMU) have carried out a counter-terrorism operation in Syria's eastern province of Dayr al-Zawr, killing and injuring dozens of terrorists from the Daesh Takfiri group in the process.
The commander of the volunteer forces – better known by the Arabic name Hashd al-Sha'abi – in western Anbar, Qassim Mosleh, said 35 Daesh extremists were eliminated or sustained injuries as Iraqi forces pounded their positions in the village of al- Susah.
Mosleh went on to say that three militant commanders, identified by the noms de guerre Abu Wadah, Abu Hamza and Abu Fatoum, were killed in the offensive.
On December 31, 2018, Iraqi military aircraft pounded a strategic position of Daesh terrorists in Syria's Dayr al-Zawr, after Syrians President Bashar al-Assad allowed Iraqi fighter jets to conduct airstrikes against the extremists in Syria.
The media bureau of Iraq's Joint Operations Command announced in a statement that Iraqi F-16 fighter jets had bombed and destroyed a two-story building on the outskirts of the village of Susah and killed 30 Daesh commanders as they were holding a meeting.
The statement added that the aerial assault was carried out following close surveillance by the Iraqi Intelligence Service.
Assad reportedly has allowed Iraqi fighter jets to hit Daesh terrorist positions in Syria without waiting to be granted official permission to do so.
The development came a day after a high-ranking Iraqi official, speaking on condition of anonymity, told Russia's RT Arabic television news network that Iraqi warplanes would be able to enter the Syrian airspace and bombard Daesh sites under Assad's directives.
The Iraqi official, however, highlighted that the Syrian president had demanded that the Baghdad government inform Syrian authorities before launching any aerial raid.
Former Iraqi prime minister Haider al-Abadi declared the end of military operations against Daesh in the Arab country on December 9, 2017.
On July 10 that year, he had formally declared victory over Daesh in Mosul, which served as the terrorists' main urban stronghold in Iraq.
In the run-up to Mosul's liberation, Iraqi army soldiers and Hashd al-Sha'abi fighters had made sweeping gains against Daesh.
Iraqi forces took control of eastern Mosul in January 2017 after 100 days of fighting, and launched the battle in the west on February 19 that year.
Daesh began a terror campaign in Iraq in 2014, overrunning vast swathes in lightning attacks.