Iraq
Iraqi troops launch attack to retake Fallujah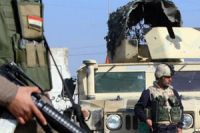 Iraqi army and tribal fighters have launched an operation to retake militant-held areas in the city of Fallujah in Anbar province.
According to AFP, the attack, which is described by Iraqi officials as the preparation for an eventual assault, started on Friday and lasted for a few hours.
A senior army officer said "A military operation was launched… to eliminate the ISIL (the so-called Islamic State of Iraq and the Levant) organization and liberate Fallujah."
The unnamed officer added "The operation will continue until an assault on Fallujah."
The ISIL militants are notorious for their atrocities in neighboring Syria.
Medical sources said eight people were killed and nine others injured in the bombardment and subsequent clashes.
Anbar plunged into violence in December 2013, when the army removed an anti-government protest camp in the provincial capital of Ramadi. Authorities said the camp was used as "headquarters for the leadership of al-Qaeda." The bloodshed later spread to the nearby city of Fallujah.