Iran
Iraq
Middle East
North America
Palestine
Iraq's Ayatollah Sistani slams Trump's 'unjust' plan for Palestine
Iraq's prominent Shia cleric Grand Ayatollah Ali al-Sistani has condemned US President Donald Trump's so-called deal of the century on the decades-old Israeli-Palestinian conflict, stating that the "unjust" initiative seeks to legitimize further occupation of Palestinian territories by the Israeli regime.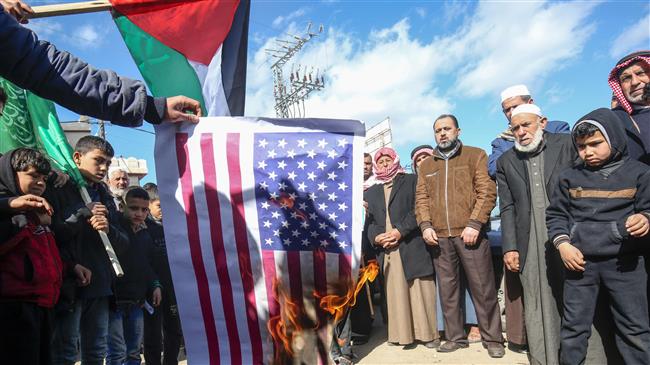 "The (Iraqi Shia) religious authority severely censures the recently-unveiled unjust plan, which is meant to give legitimacy to further occupation of usurped Palestinian lands," Ayatollah Sistani said in a statement read out by his representative Abdul Mahdi al-Karbalaei during a sermon in the holy city of Karbala on Friday.
Trump's plan nothing but proposal of apartheid, Palestinian PM saysPalestinian PM says Trump's so-called deal of century is nothing but a proposal for an apartheid system that legitimizes Israel's colonial project in the occupied Palestinian lands.
"The religious authority reiterates its support for the oppressed Palestinian people in line with their rights to regain their occupied lands, and establish an independent state. It calls on Arabs, Muslims and all freedom-loving people worldwide to back the (Palestinian) cause."
Jordanian monarch voices support for Palestinian nation
Meanwhile, Jordan's King Abdullah II has voiced the country's full support to the Palestinians in their efforts to establish an independent state with East Jerusalem al-Quds as its capital.
Speaking in a telephone conversation with Palestinian President Mahmoud Abbas on Thursday, the Jordanian monarch said Amman is standing alongside the Palestinian people and their just cause in the face of all challenges on the path to attain self-determination.
Palestinians protest against Trump's 'deal of the century'Palestinians stage fresh rallies to condemn the US President's so-called deal of the century.
For his part, Abbas thanked Jordan's support for the Palestinian cause and nation, emphasizing that such positions reflect the deep-seated and fraternal relations between Palestinians and Jordanians.
Mass protest in Jordan against 'deal of century'
Additionally, thousands of Jordanians took part in a demonstration in the capital Amman to protest against Trump's plan.
The demonstrators converged outside Grand Husseini Mosque after Friday prayers in condemnation of the so-called deal of century, and described the initiative as in favor of the Israeli regime and a bid to kill the Palestinian cause.