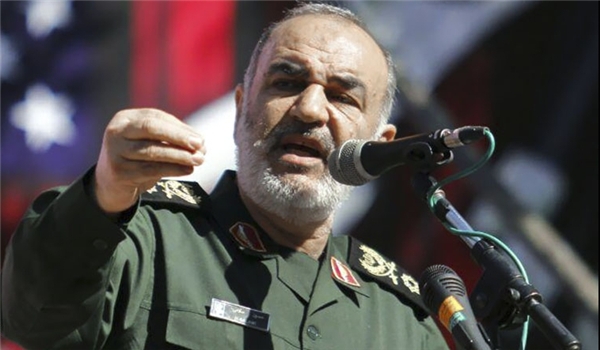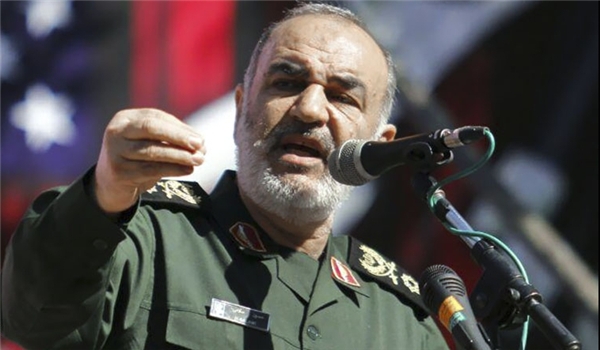 Lieutenant Commander of the Islamic Revolution Guards Corps (IRGC) Brigadier General Hossein Salami mocked the Israeli prime minister's show against Iran at the Munich Security Conference as "ridiculous".
Addressing a forum in Tehran on Monday, General Salami said Americans once managed the world community, but have now lost their status and position to play the role of a comedy actor.
"Today, we are witnessing that the US and Israel have become ridiculous actors and show the body of a missile at the White House and the wing of an aircraft as a part of an Iranian missile and drone," General Salami said.
"The Israelis claim that the drone which flew over the occupied territories' airspace was Iranian but I should say that this will not be the first and the last drone of the resistance front, either the Israelis' claim is correct or is a lie," he added.
General Salami also lashed out at American officials' allegations about the supply of Iranian missiles to Yemen to attack the Saudi targets, and said, "They say that the debris of the missile that they displayed shows that it is Iranian but we reject it outright."
He further questioned the efficiency of the US-supplied missile defense systems in Saudi Arabia, and asked, "This is an untruthful claim. If that is the case, then how have the US missile defense systems have failed to do anything when this missile was fired? Then what would they do if hundreds of thousands of missiles are fire?"
His remarks came after Israeli Prime Minister Benjamin Netanyahu claimed in the Munich Security Conference on Sunday that his regime could "act" directly against Iran, showing off what he called a piece of an Iranian drone which the Israeli military claims to have downed more than a week ago.
The claim had earlier been dismissed by General Salami who underlined that Iran does not confirm any report by Tel Aviv, including its report on downing an Iranian drone, as Israel is the source of fake news.
"We don't confirm any news by Israel. If the Syrians confirm, we will confirm too; because the Israelis are liars," General Salami said on February 10 when asked by reporters about Israeli officials' claim about downing an Iranian drone at the border between Syria and the territories occupied by Israel.
"We have no military presence in Syria and we are present in Syria for an advisory role and the presence of the Syrian army to defend their territories is adequate," he added.