Europe
Italy's center-left in the lead in lower house race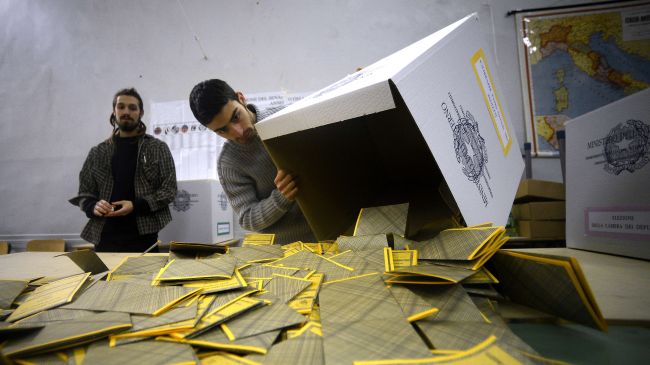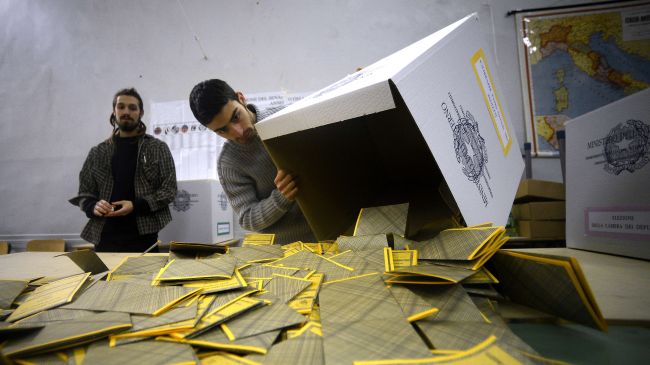 Television projections show that Italy's center-left coalition holds a narrow lead in the election for the lower house of parliament over the center-right bloc led by former Prime Minister Silvio Berlusconi.
A projection by television group Mediaset indicated that Pier Luigi Bersani's center-left group won 29.6 percent of the vote in the lower house, the center-right secured 28.2 percent, the 5-Star Movement obtained 26 percent, and Mario Monti's centrist bloc got 10.8 percent, Reuters reported.
A Sky Italia forecast had the center-left at 30.9 percent, followed by the center-right at 27.7 percent, the 5-Star Movement at 25.6 percent, and Monti's centrists at 10.4 percent.
Television channel La7 showed the center-left with 29.2 percent of the vote, the center-right with 28.3 percent, the 5-Star Movement with 26.4 percent, and Monti's bloc with 10.9 percent.
The alliance or the political party that receives the most votes in the lower house automatically gains a majority of 340 of the 630 seats. However, any Italian government must also achieve a majority in the Senate.
Projections show that the center-right bloc is in the lead in the Senate race, but no coalition has won enough seats to form a majority in the upper house of parliament.
Most political analysts believe Bersani will seek an alliance with Monti to secure a stable government, assuming parties gathered under Monti's centrist banner gain enough votes.
While Bersani has found much in common with Monti, a large part of his party's base is considerably further to the left and could rebel.