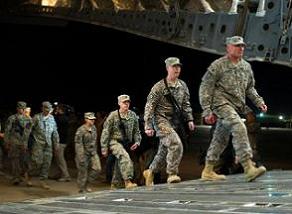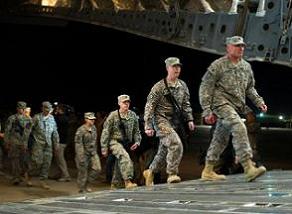 Nearly nine years after the US occupation of Iraq, the last combat troops have left the country early on Sunday, completing their military withdrawal.
Al-Manar Correspondent in Baghdad, Ali Hamza, confirmed that the US occupation forces had left the country after the Iraqi authorities refused to give impunity to any soldier that would stay on its land.
The last of roughly 110 vehicles carrying 500-odd soldiers traversed the border to Kuwait around 7:38am local time (04:38 GMT) on Sunday, leaving just a couple of hundred soldiers at the US embassy.
"Jubilation prevails in Iraq and the quietude is clear on the faces of all Iraqis who have been awaiting the pull out", Hamza said, adding that "contrary to what has been circulated of fears of chaos following the withdrawal, calmness pervaded the Iraqi capital".
On Friday, Iraq took control of last US military base. There were less than 4,000 troops, a dramatic drop from the roughly 500 military installations and as many as 170,000 soldiers.
Hamza pointed out to the media blackout that the US has been exerting, stressing that this blackout is "intended by some news agencies which are dominated by US and Israel".
"We went and saw the withdrawal operation, and when we tried to capture photos we were stopped by the US authorities".
"The US has chosen to withdraw at night in order to veil the defeat which is suffering by the resistance".
The correspondent noted that prominent Iraqi cleric, Sayyed Moqtada as-Sadr, has called the Iraqi figures to sign a pact in order to agree on abandon the sectarian strife.
"The pact can be considered as a blow to the US who went out defeated by the Iraqis".
The withdrawal ends a war that left tens of thousands of Iraqis and nearly 4,500 American soldiers dead, many more wounded, and 1.75 million Iraqis displaced, after the US-led invasion unleashed brutal sectarian killing.