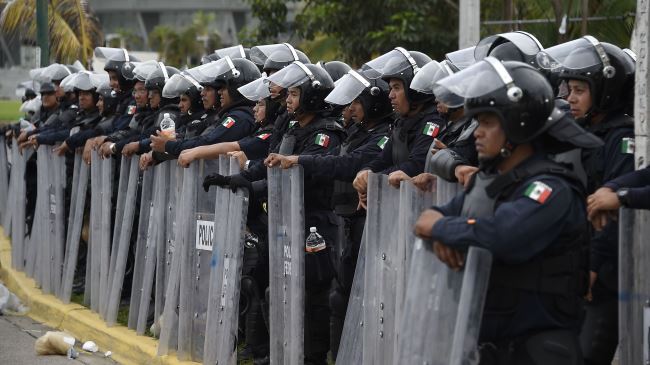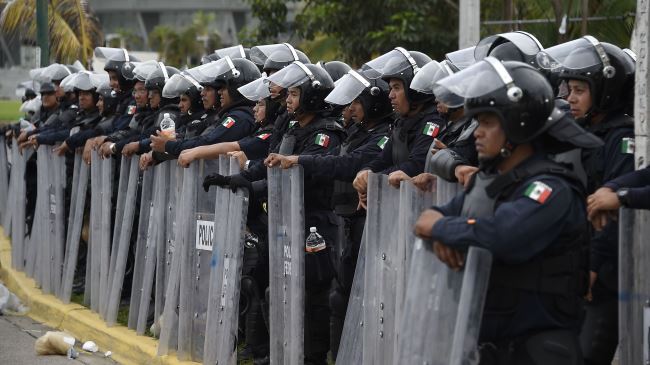 A group of Mexican protesters have blocked access to an airport in Mexico's Guerrero State to express their anger over the suspected murder of 43 students.
Thousands of protesters on Monday marched toward Acapulco international airport, with the parents of the students leading the demonstration.
"Ayotzi lives, the struggle goes on," the protesters chanted, referring to the missing students from the Ayotzinapa teacher training college in the city of Iguala.
A spokesman for the families of the missing students said they would prevent access to the international airport for three hours.
Clashes broke out between riot police and masked protesters before they reached the airport which left at least 11 police officers injured, according to security officials.
In similar protests late on Saturday, the protesters set ablaze the main door of the National Palace in the capital Mexico City, and spray-painted the words "We want them back alive!" on its walls, referring to the missing students.
Riot police arrested 14 students when the outraged demonstrators tried to break into the building.
On September 26, 43 students, all trainee teachers, disappeared in Iguala in the southern state of Guerrero following an attack by police forces suspected of having links to drug gangs. The incident took place during a protest rally over teachers' rights.
The recent protests came after authorities said three detained gang members had confessed to the killing of the students and burning their bodies.
The gang members have claimed in their confessions that the police had handed over the students to them, according to Mexico's Attorney General Jesus Murillo Karam.
Parents of the missing students say they must be shown hard proof before they believe that their children have been killed by gang members.
On November 5, tens of thousands of people took to the streets in Mexico City to protest against the government's inability to find out the fate of the missing students.