North America
More footage released in deadly arrest of Black man in Louisiana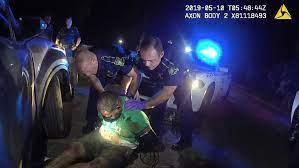 More footage of a deadly 2019 encounter of US police troopers in Louisiana of kicking and dragging a handcuffed Black man has been released by authorities.
The authorities released the bodycam footage on Friday night that shows a high-speed pursuit and Louisiana state troopers punching motorist Ronald Greene while he was already in handcuffed.
The 49-year-man was also dragged across the ground by shackled feet, and stunned with tasers as he cried, "I'm scared."
The authorities said two state troopers were notified that they will be suspended.
Police said Greene led police officers on a high-speed chase on May 10, 2019, and crashed his car before being taken into custody.
Greene was dragged "on his stomach by the leg shackles" following his violent arrest, according to reports.
The internal State Police records obtained recently by the Associated Press mark the first public acknowledgement by State Police that Greene was mistreated.
The records confirm details provided last year by an attorney for Greene's family who viewed a graphic body camera video of the 2019 arrest.
The case became another national touchstone of police abuse after the unauthorized release of police video by the Associated Press.
Colonel Lamar Davis, the superintendent of the Louisiana State Police held a press conference on Friday night where he said the department was releasing all the police bodycam video to add context to what has already been public.
"It's unfortunate that the path to get here has taken so long," he said. "But we cannot comment on any conduct of the officers involved, and we cannot offer specifics of the investigation."
The attorney for Davis's family, Lee Merritt, said that he doesn't understand why it's taken two years for the family to get answers from police.
"The family says none of this lip-service matters until there is criminal accountability in the department," Merritt said. "What happened here is a crime."
State Police, which have previously refused to publicly release the video, have also been unwilling to talk about Greene's death. The agency initially blamed the Black man's fatal injuries on a car accident outside Monroe, La.
Black Americans are far more likely to be shot, arrested and imprisoned by police than any other racial group, according to various studies.
Experts say the dramatic gap in police shootings and prison rates reflects biased policing as well as the vast economic and educational inequalities that plague much of the country.