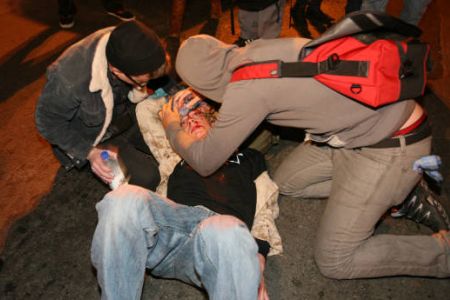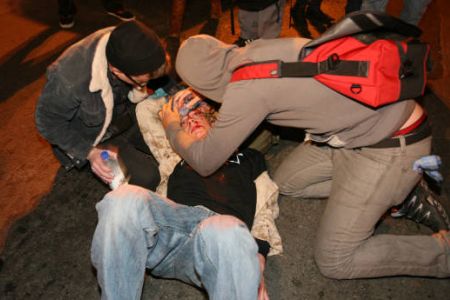 Despite brutal police crackdown on anti-capitalism protests across the US, protesters in New York City plan to hold a major new demonstration Thursday in the major American financial hub .
More Occupy Wall Street protests are scheduled in New York City for Thursday, the US-based Cable News Network (CNN) reported.
The move will take place a day after dozens of Occupy protesters were arrested in Atlanta, Georgia while security forces widely used tear gas to clear a protest camp in Oakland, California, prompting allegations of overly aggressive police conduct.
Hundreds packed the streets near Manhattan's Union Square on Wednesday at a protest rally in support of Scott Olsen, a two-time Iraq war veteran that was injured in California by state police forces.
The former Marine sustained a skull fracture after being shot in the head with a police projectile while peacefully participating in an Occupy Oakland march.
He remains unconscious and in critical condition at Oakland's Highland Hospital.
The new wave of police raids on protest rallies against "corporate greed, arrogance and power" has prompted speculation that American authorities are losing patience with expanding demonstrations around the country.
Police forces made a series of arrests at protests in Oakland and Atlanta on Tuesday and Wednesday.
The 'Occupy' movement, emerged after a group of people on September 17 rallied in New York's financial district under the motto of 'Occupy Wall Street,' protesting corruption, poverty as well as social inequality in the US.
The movement has now spread to major US cities and other countries, including Australia, Britain, Germany, Italy, Spain, Ireland, and Portugal.