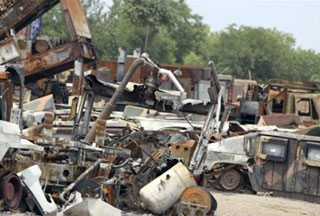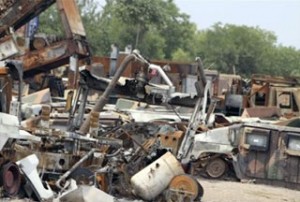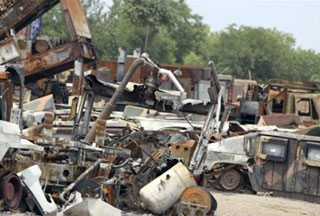 Several NATO vehicles have been attacked by unknown assailants in Khyber agency in northwestern Pakistan, but no casualties were reported.
The incident took place at Landi Kotal area in Khyber agency when militants opened fire at a NATO convoy and partially damaged two vehicles, officials told Press TV.
The containers were returning to Pakistan via Torkham border after delivering supplies to US-led NATO forces in Afghanistan.
Meanwhile, a local anti-terror court has ordered the chief of pro-Taliban militants in Swat valley, Maulana Fazalullah, and his six other associates to appear before the court within seven days.
According to official sources, judge of special anti-terror court Khalil Khan Khalil in Swat on Wednesday declared Fazalullah and his six associates proclaimed offenders and ordered them to appear in local police station or court within seven days; otherwise, action will be taken against them.
More than 100 cases, including murder and attempted murder had been registered against the militant leader who is currently in hiding at an unknown location.
Chairman Special Support Group, Lieutenant General Nadeem, on Tuesday said that Maulavi Fazalullah is alive but his infrastructure has been destroyed in Swat.