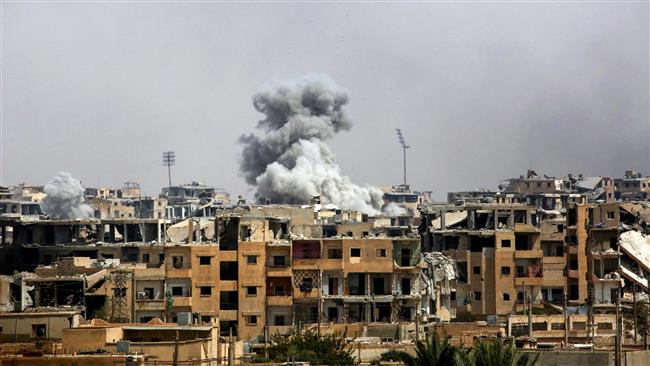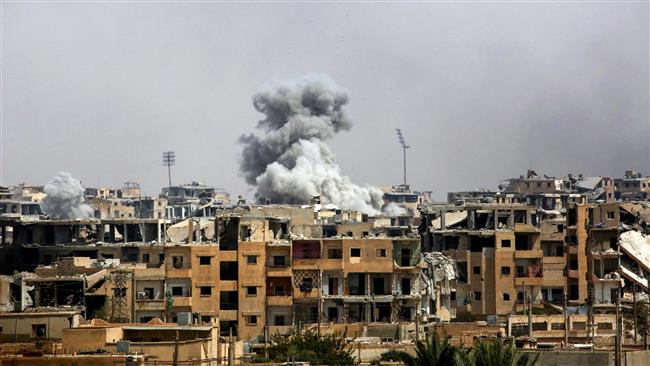 More than a dozen civilians have been killed and several others have sustained injuries when the US-led coalition purportedly fighting the Daesh Takfiri terrorist group carried out separate aerial attacks in Syria's eastern province of Dayr al-Zawr as well as the northeastern province of Hasakah.
Syria's official news agency, SANA, reported that 10 civilians lost their lives when US-led military aircraft bombarded al-Duwaiji village in the Tal Shaer district of Dayr al-Zawr Province near the border with Iraq.
An unspecified number of paramedics were also killed as they rushed to the area to save the lives of those buried under the debris of collapsed buildings.
Separately, six people lost their lives when a residential area of al-Da'ij village in the Hasakah Province was hit by US-led fighter jets.
On October 11, Syrian Foreign Minister Walid al-Muallem said the US-led coalition was trying to destroy the Arab country and prolong the armed conflict there.
Muallem stated that Damascus would demand the dissolution of the military contingent, stressing that thousands of Syrian women and children had been killed by coalition airstrikes in the troubled northern province of Raqqah and Dayr al-Zawr province.
The top Syrian diplomat further noted that the Pentagon was using the coalition to cover up its destruction campaign in Syria.
The US-led coalition has been conducting airstrikes against what are said to be Daesh targets inside Syria since September 2014 without any authorization from the Damascus government or a UN mandate.
The military alliance has repeatedly been accused of targeting and killing civilians. It has also been largely incapable of achieving its declared goal of destroying Daesh.
On October 4, the Syrian Foreign Ministry, in two separate letters sent to UN Secretary General António Guterres and UN Security Council rotating President François Delattre, criticized the international community's silence towards US atrocities in the Arab country.