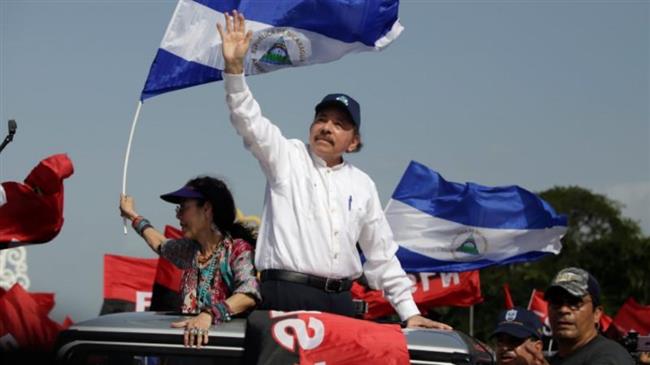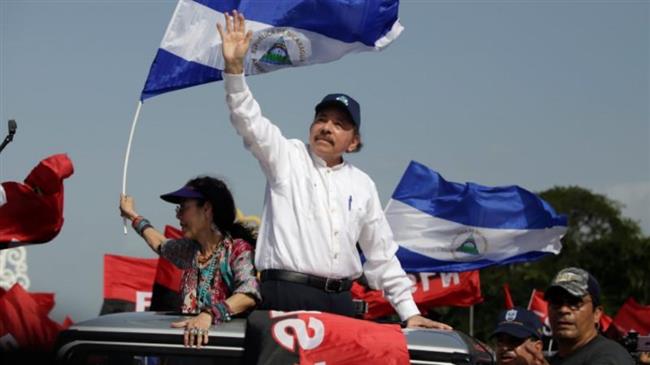 Nicaraguan President Daniel Ortega says "satanical criminals," Catholic bishops and the US are behind a wave of unrest that has gripped the Central American nation for months.
They have been conspiring to mount a "coup d'etat," Ortega told a rally to mark the 39th anniversary of the country's Sandinista Revolution in Managua Thursday.
"It has been a painful battle. Painful because we have confronted an armed conspiracy financed by internal forces we know and external forces," he said.
Some 300 people have been killed in the three months of unrest in what used to be one of Central America's safest countries.
Ortega said Catholic bishops are "behaving like coup plotters," and some churches have caches of weapons and serve as rebel bases.
He made the speech, standing on the stage alongside the Cuban and Venezuelan foreign ministers and his wife Rosario Murillo, who is also his vice president.
Ortega came to power in 1979 with the victory of the Sandinista Revolution that toppled US-backed dictator Anastasio Somoza.
On Thursday, he called on protesters to resolve their issue with the government through peaceful means, not violence.
"You all are the defenders of peace … We have to re-establish order in our country," said the president.
Anti-government protests first began in April over Ortega's planned economic reforms, including cuts to the social security system. He later reversed the plan, which was aimed at easing budgetary pressures.
The rallies, however, turned into protesters against Ortega's rule, with people calling for his resignation. Despite the president's calls for calm, the opposition insists that Ortega must step down and hold early elections.
Nicaraguan officials say the protests are parts of a US-orchestrated plot to topple the Sandanistas.
The revolutionary forces launched a radical economic and cultural program, including the nationalization of industries, land reform, and redistribution of wealth, among others, aimed to compensate the impoverished and down-trodden masses.