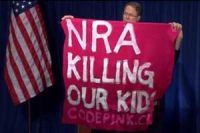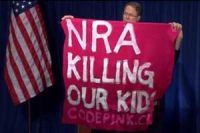 The United States most powerful pro-gun lobbying group, the National Rifle Association (NRA) has rejected greater firearm regulation and vowed to fight any new gun restrictions introduced in Congress.
According to AFP, Wayne LaPierre, the NRA's executive vice president, said on Sunday that proposal to outlaw military-style assault weapons and large-capacity magazines was "phony" and would not work.
Last week, President Barack Obama appointed Vice President Joe Biden to lead an effort to find proposals "to reduce the epidemic of gun violence that plagues this country every single day." Obama also pledged to present the proposals to Congress.
LaPierre pointed out that he was not interested in working with Obama to help develop a broad response to the Connecticut school massacre.
He repeated the NRA's call to post armed guards in every US school to combat gun attacks on children and said prosecuting criminals and fixing the nation's mental health system rather than gun control are the only solutions to the country's mass shooting epidemic.
The comments came as the US is still reeling from the aftermath of the shooting that killed 27 people, including the attacker, in Newtown, Connecticut on December 14.