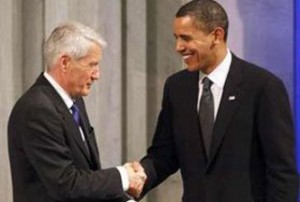 During a Nobel ceremony in Oslo City Hall, President Barack Obama has warned that he would not hesitate to wage war if it was "morally justified."
"I'm responsible for the deployment of thousands of young Americans to battle in a distant land. Some will kill, and some will be killed," Obama said on Thursday, during a glittering ceremony in Oslo, Norway.
Obama acknowledged the odd paradox that he was being honored as a Nobel Peace Prize winner, a week after ordering 30,000 more US troops to Afghanistan, but argued that sometimes peace could only be wrought through strength.
"So, I come here with an acute sense of the costs of armed conflict — filled with difficult questions about the relationship between war and peace, and our effort to replace one with the other."
Meanwhile, on Thursday, there were polite protests by an anti-nuclear group which marched through Oslo holding lighted torches, and appeared friendly to Obama, who has vowed to cut US and Russian atomic weapons stocks.
In a separate demonstration, peace protesters took to the streets. In all, police said, between 12,000 and 15,000 protesters and onlookers converged in front of the Grand Hotel where Obama was staying.