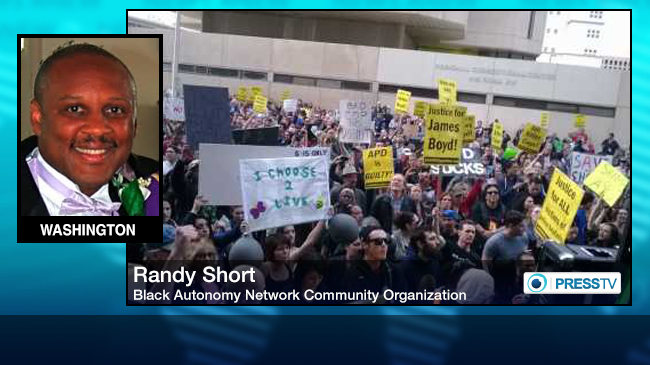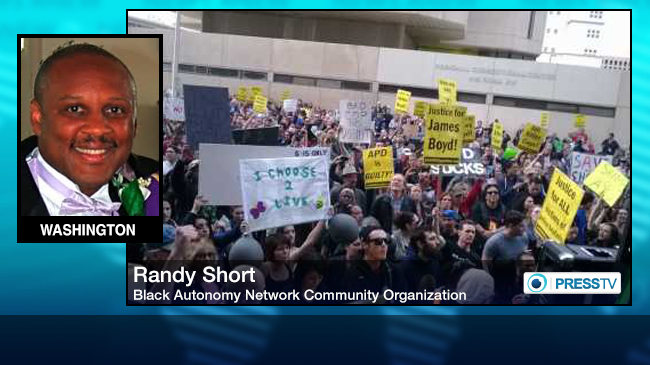 A political analyst has criticized police in the United States for the brutal shooting of a homeless man that stirred protests in the city of Albuquerque.
"A lot of violence and killing and beating that has been primarily targeted against African Americans is now being expanded to the new number one minority group which is the Spanish-speaking people," Randy Short from Black Autonomy Network Community Organization told Press TV in a phone interview Monday.
Hundreds of American demonstrators held a march in Albuquerque, New Mexico on Sunday to protest the killing of James Boyd, a homeless man who lived on the foothills of a mountain outside the city.
A similar demonstration was also held Tuesday during which protesters chanted "We want justice," and demanded justice for Boyd.
Boyd, 38, was killed on March 16 by police officers while camping in the foothills of the Sandia Mountains on the east side of Albuquerque. Police accused him of setting up an illegal camp in an open space and fired six times at him.
A helmet camera video showed the homeless gathering his belongings and turning away to leave the area just before the police shot him.
"This man who was killed was not Latin American but more than likely a veteran. We have hundreds of thousands of veterans who are homeless many of them mentally ill due to psychotropic drugs pushed on them by the US military and it's almost a systematic policy of people who are mentally ill or former servicemen and women being murdered, killed, or abused the same way a black man was literally roasted in a prison in New York just a few days ago," Short said.
"So there is an unprecedented level of violence against non-white people, African Americans, and poor people" and "they kill our servicemen and women who done everything they are supposed to do and find themselves losers," he added.
Last week, Albuquerque police shot another man dead at a public housing complex.
Since 2010, the city's police officers have been involved in 37 shooting incidents, 23 of them deadly, with critics saying that is far too many for a department serving a city of about 555,000.
The police department has been under investigation by the US Justice Department for more than a year. It now faces complaints of civil rights violations and allegations of excessive use of force.