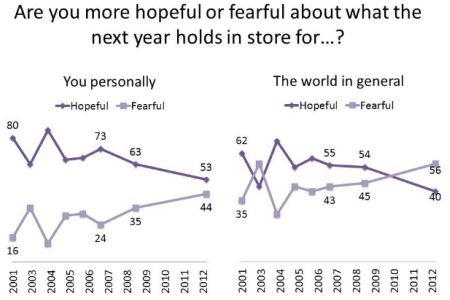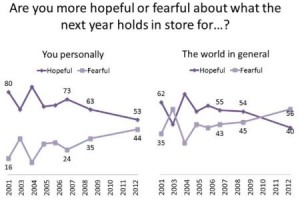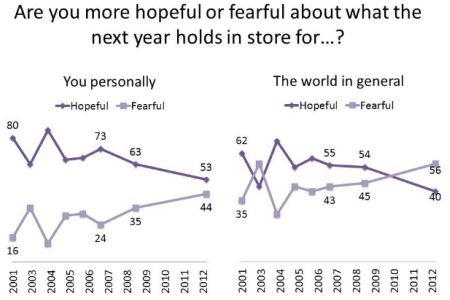 Public expectations about the year ahead are bleaker than they've been in more than a decade, with Republicans leading the way in adopting gloomier outlooks, according to a new Washington Post-ABC News poll.
A bare 53 percent majority of all Americans are "hopeful" about their lives in 2013; some 44 percent say they are instead more "fearful." The assessment about what's in store for the world is even more grim: a record low 40 percent report being hopeful about the next year, with 56 percent saying they are more fearful.
Those personally hopeful numbers are down sharply from four years ago when 63 percent said as much in the wake of President Obama's historic first election. The trend is even more striking compared to expectations for 2007, before the national economic bubble burst. In December 2006, nearly three-quarters were more hopeful than fearful about the coming year.
Perceptions of a lingering recession, weak economic recovery and fears of falling off the "fiscal cliff" underpin these sagging expectations. Over three quarters think the economy is still in a recession, despite improved economic indicators such as falling unemployment.
The likelihood that the December 31 deadline for Congress and Obama to reach a new budget deal will fall through compounds negative perceptions for the coming year. Some 45 percent think it is likely that Obama and Republicans in Congress will not reach an agreement to avoid the fiscal cliff. Personal fears about the new year rise to 58 percent among those who think this failure is likely to happen.
Nearly six in 10 are very concerned about the national economy if a budget agreement is not reached soon. Among those with high level concern, 53 percent are fearful about the future. The Washington Post
HIGHLIGHTS
Talks between House Republicans and President Obama appeared to reach a dead end last week after Speaker Boehner (R-Ohio)'s "Plan B" tax plan failed to muster enough GOP support in the House.
Boehner said that while he is willing to work with the president, the onus for finding a plan to avoid January's tax rate hikes and automatic spending cuts now rested with Democrats.
Obama and lawmakers have left Washington for the holidays, but are expected to return later this week.
Overall, Republicans seem more concerned about the future than Democrats. 75 percent of Democrats are hopeful about their personal lives in the next year, with only 25 percent of Republicans feeling the same. Fifty percent of independents say they are hopefully personally.