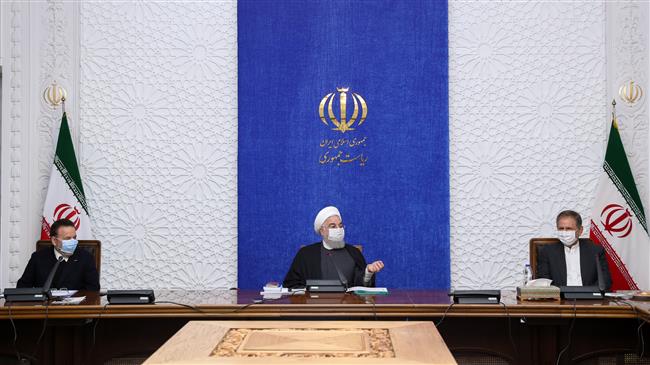 President Hassan Rouhani has highlighted the outgoing US administration's repeated failures in its policy of pressure and sanctions against Iran, advising all those who are attempting to defeat the Islamic Republic through similar approaches to abandon such a "wrong and failed policy."
At a meeting of the government's economic coordination headquarters in Tehran on Tuesday, Rouhani said US President Donald Trump failed to recognize the realities of Iran's capabilities and acted based on his own illusions in dealing with the nation.
Trump's loss in the 2020 presidential race was mainly rooted in his failure in over two years of economic war on Iran — along with his other foreign policy defeats, Rouhani said.
"Even though the economic war has inflicted a lot of damage, especially on public livelihoods, the architects of the [anti-Iran] sanctions and warmongers who assumed that Iran's economy would collapse in the short term are leaving the White House. This is while the Iranian nation has proudly emerged victorious in an all-out economic war stronger than ever," Rouhani said.
He thus advised "all those who seek…to defeat Iran through measures like sanctions to abandon their flawed and failed approach and let it become history."
Elsewhere, the president said the national budget bill for the next Iranian calendar year, which begins on March 21, 2021, has been drafted on the basis of country's economic capacities and the world realities.
"Contrary to the perception and analysis of those who believe the budget rests upon international developments and results of the US (presidential) election, we emphasize that the national budget bill has been prepared precisely on the basis of Iran's economic capacities," Rouhani noted.
Iran has been under the "toughest ever" US sanctions since May 2018, when Washington abandoned the international nuclear deal, officially known as the Joint Comprehensive Plan of Action (JCPOA), signed between the Islamic Republic and major world powers in 2015.
After quitting the deal, the US under President Donald Trump unleashed a "maximum pressure" campaign mainly aimed at paralyzing Iran's banking sector and driving to "zero" its oil exports — the country's main source of income.
Faced with the obstacles that the US has been creating in the way of its oil sales, Tehran has stepped up work to wean the country off oil revenues and diversify its economy.