Middle East
Syria
Turkey
Senior Commander of Turkey-Backed Terrorists Killed as Infighting Intensified in Northern Syria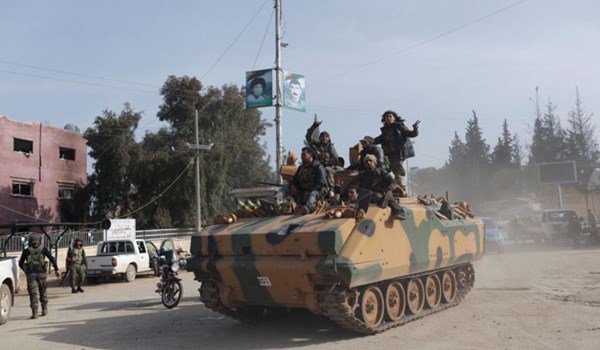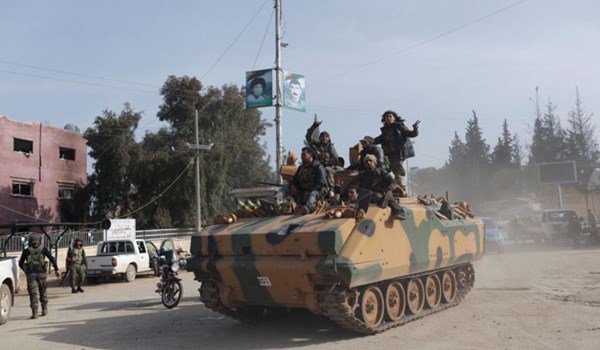 Mahmoud Azazi, a commander of Ankara-backed Firqa al-Safawah terrorist group, was killed in clashes with rival groups and Turkish troops in Afrin region in Northwestern Aleppo on Monday.
Heavy infighting is underway between the Turkish army and its allied militants and Tajamo'a al-Sharqiyah in Mahmoudiyah neighborhood and al-Filat street in the occupied town of Afrin that has thus far inflicted major casualties on both sides.
Mahmoud Azazi nom de guerre Abu Nawarah, a notorious commander of Firqa al-Safawah affiliated to Turkish troops, has been killed in the infighting.
Turkish army tanks and military vehicles have entered the battlefield and the Turkish artillery units are pounding the positions of Tajamo'a al-Sharqiyah in Afrin.
At least 25 militant have been killed and tens more have been wounded in the infighting that has been unprecedented in the last 8 months.
In the meantime, militant-affiliated sources said that Deputy Commander of Jeish al-Sharqiyah Abu Abdullah al-Masrab has declared its affiliation to Tajamo'a al-Sahrqiyah, condemning attacks by the Turkish troops and allied militants.
The sources further said that Firqa al-Hamzah and Sultan Murad terrorist groups, both affiliated to Turkish army, have dispatched their fighters from Bolbol and Hawar Kilis regions near the town of Azaz to Afrin region.
On Sunday, the Turkish army commandoes assisted by a number of their allied militants started fierce clashes with Tajamo'a al-Sharqiyah, another Ankara-backed militant group, in the occupied town of Afrin.
The army and its allied militants further closed off the entire roads to Afrin and laid siege on several neighborhoods, while heavy exchange of fire was reported in al-Filat street.
The clashes inflicted a number of causalities on both sides and also on civilians.
The clashes came after some of the Ankara-backed militants refused to obey Turkish troops' military orders in region.