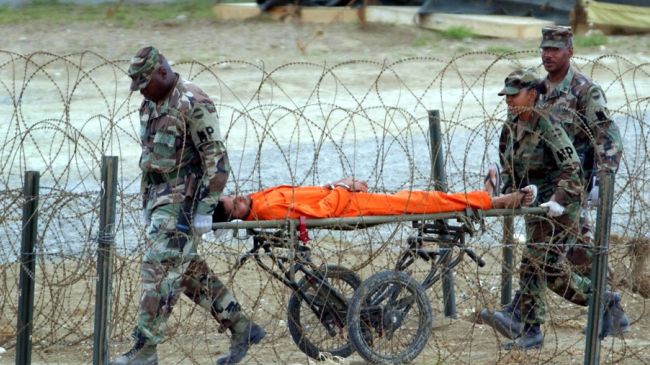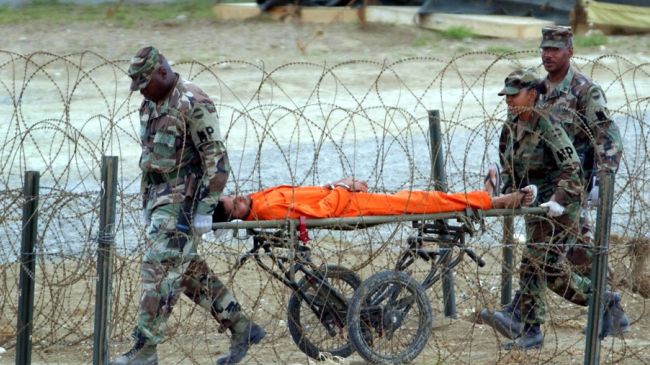 Several more detainees at the United States' infamous Guantanamo Bay prison in Cuba are staging a hunger strike to protest disrespect of the Qur'an and confiscation of personal items.
A US official at the prison confirmed on Tuesday that the number of detainees on hunger strike at the Guantanamo has risen to 24 since last week.
"Today, Tuesday, March 19, 2013, we have 24 hunger strikers, with 8 on internal feed," said Navy Capt. Robert Durand, a prison spokesman.
Durand dismissed as untrue the reports of the inmates' deteriorating health as a result of their hunger strike.
On March 11, attorneys for more than a dozen of the prisoners said that the protest was prompted by a series of searches that began on February 6 in which a number of personal items, including books, CDs, blankets, and legal mail, were confiscated.
Meanwhile, a group of around 50 military-appointed public defenders, who represent most of the Guantanamo prisoners, said the majority of the inmates are on hunger strike.
Rights activists say several prisoners have lost between nine to 22 kilograms (48.5 pounds).
They also accuse jail authorities of seeking to downplay the extent of the situation inside the detention camp.
"The prisoners know that the Guantanamo staff is denying the scale of this peaceful protest, and it's provoking the men to take even more strict approach to their hunger strike," said Omah Farah from the Center for Constitutional Rights (CCR).
"It is irresponsible for Guantanamo authorities to deny or to diminish the severity of what's going on because that is only going to further jeopardize the prisoners' lives and health. It will only lead to a worse result," Farah added.
The US holds about 166 men at the prison. A mass hunger strike involved many of the prisoners in the summer of 2005 but the protest dwindled after the military began tying people down and force-feeding them liquid nutrients through tubes to prevent them from starving to death.