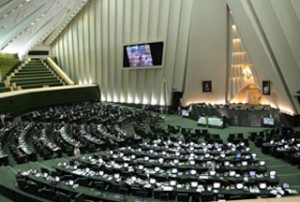 Proposals for setting up six foreign banks in Iran have been sent to the Majlis to remove obstacles for the opening of branches, Iranian official says.
"The demands from the foreign banks have been sent to the Majlis by the Organization for Investment, Economic and Technical Assistance of Iran (OIETAI)," the head of OIETAI Behrouz Alishiri told Mehr News Agency on Monday.
He added that a special working group has been created by the Parliament's economy committee to deal with the issue.
"Suggestions to remove the legal obstacles will be sent to the Majlis in order to be discussed by the MPs in two weeks time," Alishiri said.
He explained that a correction of the fifth clause of Article 44 of the Iranian Constitution could pave the way for the presence of foreign banks in the country.
Article 44 of the Iranian Constitution had heretofore placed banking activities exclusively in the hands of government. In tandem with the Law on Usury Free Banking Operations, these two measures effectively blocked foreign banking operations from conducting business in mainland Iran.
A handful of foreign bank branches and representative offices extant in the country were allowed to undertake administrative and coordination activities but were not permitted to open customer accounts within mainland Iran, receive deposits or extend normative facilities.
Foreign banks were, however, under special conditions, allowed to function in Iranian free zones.
In December, the Economic Committee of the Parliament approved the principal provisions of the bill.
"The main provisions of the establishment of foreign banks in Iran via a joint investment by natural or legal persons and through approval by the Iranian Money and Credit Council, have been approved," the spokesman for the Majlis' Economic Committee, Mohammad-Reza Khabbaz, told IRNA.
He added that the setup of foreign banks in Iran would be allowed in the forms of various commercial companies.