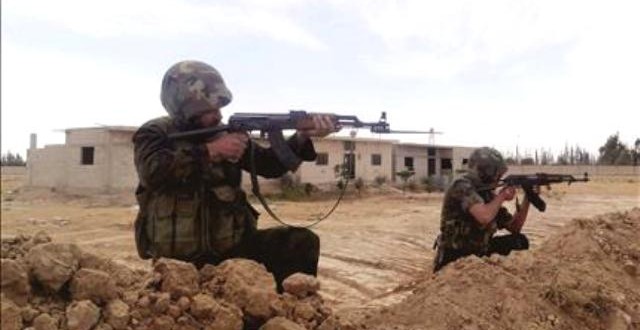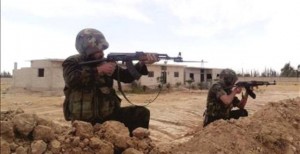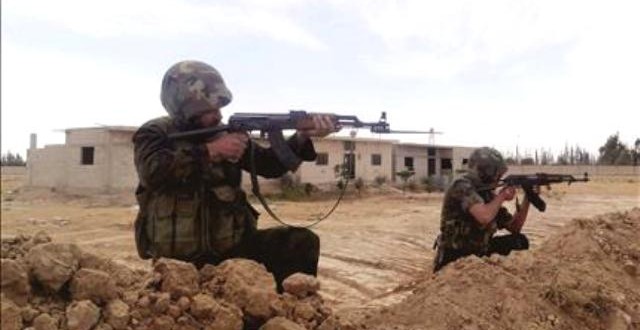 The Syrian army continued chasing terrorists in eastern Ghouta in Damascus Countryside and advanced further in pursuing in Hteita al-Turkman town, a military source told SANA. Syria Army
SANA also mentioned that the Syrian armed forces killed large numbers of terrorists in the town including Osama al-Najjar.
The Syrian army destroyed a car loaded with weapons and ammo and eliminated a number of terrorists in Jobar area, in addition to clashing with terrorist groups in Jobar area and eliminating five of their members.
A Syrian army unit pursued terrorists in Harasta area and eliminated terrorists Mahmoud Hamzeh, while another unit carried out a special operation resulting in destroying a terrorist hideout and eliminating terrorists Mohammad Sadeq and Nawras al-Tawil.
In al-Mleiha, army units clashed with terrorists near Tameco pharmaceutical company and eliminated a number of them including Ahmad Sisan, while another unit pursued terrorists in the nearby farms and eliminated two of them: Taha Salim and Mohammad al-Jammal.
A terrorist gathering was destroyed in Alayah farms were terrorist Khaled Khdeir was killed, in addition to eliminating most members of a terrorist group near Ma'loula including the group's leader Shaker Diab.
Terrorists Pursued, Killed in Homs
A Syrian army unit killed many terrorists and injured others during their attempt to infiltrate from al-Walid compound into the City Center area, while another unit clashed with terrorists who attempted to attack the National Hospital in Jourat al-Shayyah in the city, inflicting heavy losses upon the terrorists.
The military source said that other army units destroyed heavy weapons and ammunition, killed many terrorists and injured others during operations that were carried out against their gatherings and dens near Exhibitions City, 8th March Pool in al-Waar, al-Qosour and al-Qarabis neighborhoods in Homs and al-Dar al-Kabira and al-Misherfe villages.
In the meantime, an army unit combated an armed terrorist group that attempted to attack the National Taldao Hospital, killing many of the terrorists and injuring others.
Also, the Syrian army units pursued armed terrorist groups that infiltrated into the village of Sadad in Homs countryside, destroying their weapons and ammunition.
An official source told SANA that many terrorists were killed including a terrorist group leader, Ahmad Abdul-Karim al-Rifaei.
The source added that army units targeted terrorists' gatherings and destroyed their weapons and ammunition loaded in cars in Mahin and Hawarin villages, killing many terrorists and injuring others.