Middle East
Syria
Syrian Army Sends Massive Military Convoys to Hama, Idlib for Heavy Battle with Terrorists
The Syrian Army continues to dispatch massive military convoys to Northern Hama and Southern Idlib as heavy fighting underway between the two sides inflicted tens of casualties on the terrorists.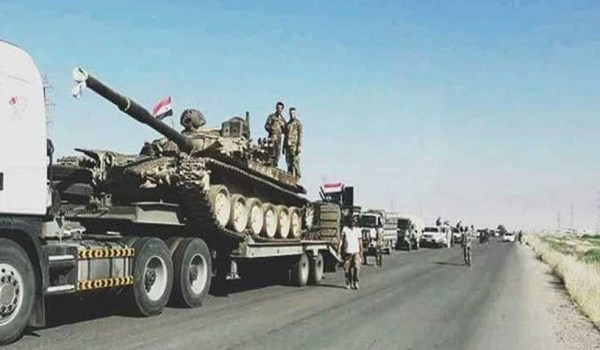 A military convoy comprising hundreds of Syrian soldiers and massive military equipment were dispatched from Hama Airport to contact lines with terrorists in Northern and Northwestern Hama as well as Southern Idlib to reinforce the Syrian Army's military positions in those regions.
Three military convoys comprising tens of military vehicles carrying military equipment and a large number of fresh troops arrived in Northern Syria from Damascus province.
The Arabic-language al-Watan newspaper reported that the Syrian Army's artillery units and air force as well as the Russian air force pounded the terrorists' military positions and movements in all fronts in Northwestern Hama and Southern Idlib, including the towns of Kafar Zita, Mourek and al-Latamaneh, destroying all their military positions and killing tens of terrorists.
Meantime, sources affiliated to the militants admitted that at least 52 terrorists, including two notorious commanders of Jeish al-Izza terrorist group, namely Mohammad Khaled al-Saba and Yasser Ahmad al-Helal were killed.
In a relevant development on Monday, the al-Watan newspaper reported that Turkey had ordered Tahrir al-Sham al-Hay'at (the Levant Liberation Board or the Al-Nusra Front) to reinforce strategic military positions in Jbal al-Zawiyeh in Idlib province after it turned down Russia's demand for withdrawing militants from the region.
It added that with an aim to confront the Syrian Army in Northern Hama, Tahrir al-Sham has sent large volumes of its military equipment to al-Jolmeh to North of Mahradeh.
"Turkey's intelligence body has asked Tahrir al-Sham and other terrorist groups in Northern Syria to reinforce its defense lines, including 50 towns and villages up to the city of Ariha in Aleppo-Lattakia international highway as clean-up operation by the Syrian and Russian armies in Jabal al-Zawiyeh in Idlib is imminent," al-Watan quoted local and opposition sources in Idlib as saying.
The sources reiterated that Turkey's operations room in Shir Mughar region in Jabal Shahshabou in Northern Hama where terrorists are constantly supported in terms of weapons, ammunition and intelligence has warned terrorists that the Syrian army might soon capture Jbal Shahshabou which overlooks Sahl al-Ghab in Northwestern Hama and towns to the South of Idlib and then advance towards Jabal al-Zawiyeh.
The al-Watan newspaper also further quoted the sources as saying that Russia had recently asked Turkey to make terrorists retreat from Jbal Shahshabou region in Northwestern Hama and Kabani town in Northeastern Lattakia which are regarded as the Southern and Western gates of Idlib, but Ankara has strongly turned down the demand.
Meantime, the Arabic-language al-Youm news website quoted media activists in Idlib province as saying that after supplying advanced weapons to terrorists, Ankara has ordered them to launch new attacks in Northern Hama to recapture the town of al-Saqilbieh.