Middle East
North America
Syria
Turkey
Syrian protesters condemn US sanctions, Turkey occupation in Hasakah prov.
Local people in northeastern Syrian province of Hasakah have organized a protest rally to denounce US' coercive economic measures against their country while demanding expulsion of both US and Turkish occupying forces.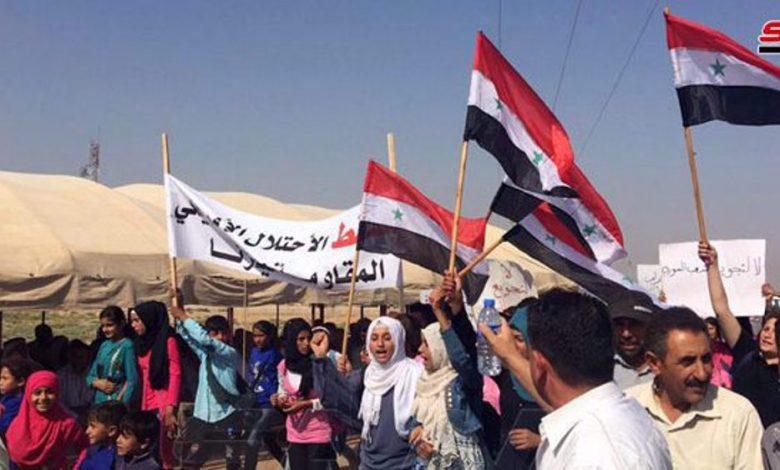 According to Syria's official news agency SANA, the latest rally on Thursday, which was held in village of Tal Sateeh near the city of Qamishli in northeastern province of Hasakah, demanded action against the "American occupiers" and the US-backed mercenaries as well as the Turkish-backed militants.
The Syrian protesters also voiced their determination to liberate all Syrian territories from occupation of foreign forces and terrorist groups.
The participants stressed their resolve to extend moral and material support to the Syrian government forces and popular resistance until the full expulsion of foreign-backed militants.
They also hailed the achievements of the Syrian Armed Forces on the battlefield against foreign-backed militant groups across various parts of the country.
Ankara, which backs Syria's anti-government militants, has currently stationed thousands of Turkish troops in the northwest of the Arab country.
Over the past four years, the Turkish military has staged at least two unauthorized incursions into northern Syria to push back against Kurdish militants, whom Ankara says seek to overthrow the Turkish government.
A panel of United Nations war crimes investigators has recently called on Turkey to rein in allied militants in northern Syria, who may have committed a range of war crimes against civilians, including hostage-taking, rape and torture.
In recent months, the US has dispatched fresh military convoys to Syria's northeastern province of Hasakah.
The presence of US forces in northern and eastern Syria has particularly irked civilians, and local residents have on several occasions stopped American military convoys trying to enter the regions.
Syria, which has not authorized the presence of the US military in its territory, says Washington is "plundering" the country's oil.
Senior Syrian officials have denounced the United States economic sanctions against their country, saying the coercive measures are meant to revive terrorism in Syria and force Damascus to turn its back on the anti-Israel resistance front.