Iran
Middle East
North America
TankerTrackers Blasts Pompeo for Lies about Iranian Oil Tanker
The TankerTrackers company lashed out at US Secretary of State Mike Pompeo for misusing the brand to foist his lies about the Iranian oil tanker Adrian Darya 1 which was seized in the Strait of Gibraltar by Britain in July and later released in August.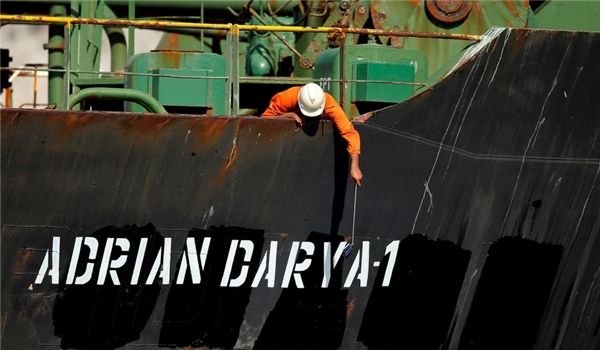 Iran's foreign ministry stated in September that the tanker had sold its cargo, but did not disclose its destination. The ship had been detained in Gibraltar for six weeks this summer with allegations of carrying oil to sanctions-hit Syria.
Pompeo claimed that he suspected an Iranian tanker of transporting oil to Syria, however there appears to be no clear evidence of any wrongdoing on the part of Iran.
"Despite (Iranian Foreign Minister Mohammad) Zarif's promise to the UK that the AdrianDarya1 would not deliver oil to Syria, it is now transferring oil off the Syrian coast," Pompeo tweeted. "Will the world hold Iran accountable if this oil is delivered to Syria?"
Pompeo also shared a satellite image purportedly produced by the San-Francisco-based private Earth imaging company, Planet Labs, which appears to show the vessel, Adrian Darya-1, positioned alongside a smaller Syrian tanker, Jasmine, off the coast of Syria.
The picture shared by Pompeo was taken from an earlier post by the tracking service TankerTrackers. In it, the bloggers refrained from jumping to conclusions, unlike Pompeo, "This is not a confirmation of any oil transfer just yet. We'll compare imagery later," said Tanker Trackers.
TankerTrackers have put into question Pompeo's claims that the Adrian Darya is carrying out ship-to-ship oil transfer, "That is NOT what we said. We said the oil transfer is still unconfirmed. For all we know, the two crews could be enjoying coffee and playing cards together. One requires two dots in order to draw a line. We have to confirm the oil transfer."
The service then accused Pompeo of "misrepresenting" and "misusing" its brand, as well as damaging its reputation.
In a later post on Twitter, TankerTrackers said that "due to the tweet below (Pompeo's), we've decided to end our public coverage of the Adrian Darya 1. As of now, our continued coverage will only be available to our Premium subscribers. This was a misuse of our brand and damage to our reputation. Apologies and thanks".
Adrian Darya 1, previously known as Grace 1, was detained off Gibraltar by British Royal Marine commandos on 4 July for allegations of being en route to Syria. Adrian Darya 1 was released on 15 August.