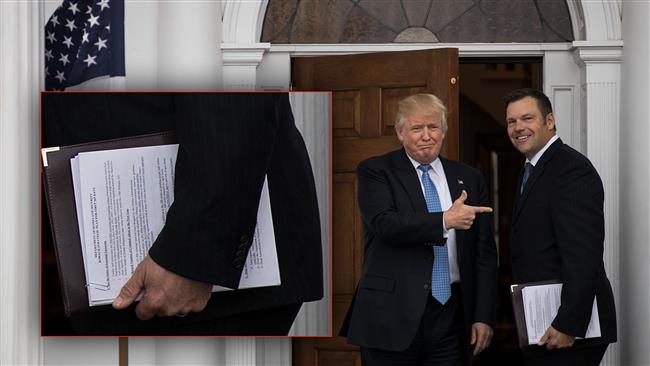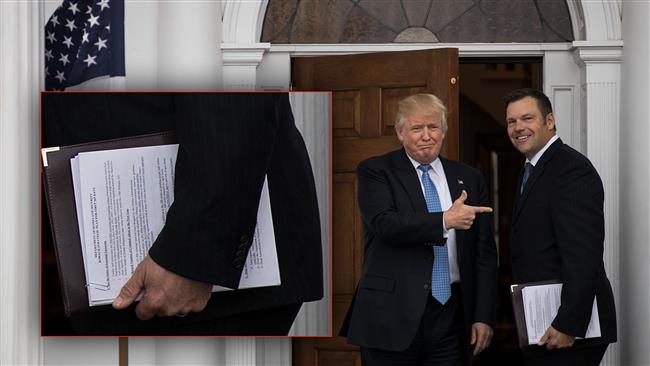 A zoomed-in photo appears to reveal US President-elect Donald Trump's pick for the Department of Homeland Security along with some of the issues possibly on the agenda, including "extreme vetting questions" in regard to "support for Sharia law" as well as rejection of all Syrian refugees.
The documents were leaked after Kansas Secretary of State Kris Kobach was photographed holding them, following a meeting with the real estate tycoon at Trump International Golf Club in Bedminster Township, New Jersey on Sunday.
Titled "Department of Homeland Security, Kobach Strategic Plan for First 365 Days," the documents appear to fuel rumors that Kobach may have been picked for the key post.
The first measure is to "update and reintroduce" the National Security Entry-Exit Registration System (NSEERS), based on which "all aliens from high-risk areas are tracked."
"Extreme vetting" of the immigrants is also on the agenda with questions regarding "support for Sharia law, (and) Jihad," in part.
The document also refers to a complete ban on refugees from Syria, phrased as "Reduce intake of Syrian refugees to zero."
The document also contains obscured references to the arrest and removal of illegal aliens and "386 miles of existing actual wall."
After 9/11, Kobach who was serving in President George W. Bush's Department of Justice, designed the National Security Entry-Exit Registration System.
NSEERS required some of the refugee seekers to undergo interrogations, fingerprinting, registering at government offices in person and checking in frequently.
Following harsh criticism by rights groups, the Homeland Security also found it redundant and it was scrapped in 2011.