Syria
Tens of Terrorists Killed in Failed Attempt to Retake Kafar Naboudeh in Hama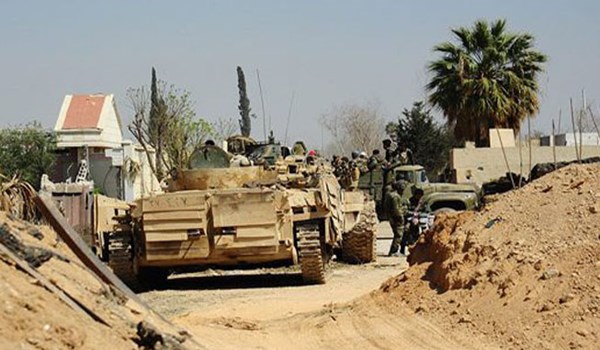 The Syrian army, supported by the air force, repelled a heavy offensive by Tahrir al-Sham al-Hay'at (the Levant Liberation Board or the Al-Nusra Front) to regain control of the strategic town of Kafar Naboudeh in Northwestern Hama, killing at least 30 militants.
The Arabic-language service of Sputnik reported on Monday that Tahrir al-Sham terrorists attacked the Northeastern parts of Kafar Naboudeh in Northwestern Hama from the town of al-Qassabiyeh in Southern Idlib.
It added that the army forces repulsed the attack after heavy clashes and inflicting tens of tolls on the terrorists, most of them suicide attackers, and destroying two armored vehicles.
The Syrian air force also pounded the terrorists' supply lines from the town of Kafar Zita to al-Habit, Khan Sheikhoun and Kafar Nubl and al-Qasabiyeh between Hama and Idlib, inflicting heavy damage on them.
Based on other reports, the Syrian air force also smashed a military convoy of terrorists, consisting of 6 military vehicles, from the town of Khan Sheikhoun in Southern Idlib to the town of al-Habit.
The Arabic-language al-Watan newspaper, meantime, reported that 3 groups of Jeish al-Izza terrorists were held captive during the liberation operations in Kafar Naboudeh, adding that the Syrian army troops advanced towards the town of al-Habit in Northern Hama after gaining back control of the region.
Also, the terrorist groups stationed in Northwestern Hama launched heavy rocket attacks against the residential areas in the town of al-Saqilbiyeh and its hospital in Northwestern Hama, wounding several civilians, including women, children and hospital personnel.
The Syrian Army in an ambush operation against Tahrir al-Sham regained control of Kafar Naboudeh town after killing tens of terrorists.
The Syrian Army won control over Kafar Naboudeh only a few days after it made strategic withdrawal from the key town.
The Damascus Army's artillery and missile units launched heavy attacks on Tahrir al-Sham's military positions and movements in Kafar Naboudeh in Northwestern Hama and took control of the town.
Meantime, a military source also announced that the army troops also managed to kill at least 30 terrorists and also destroy their military vehicles.
The source also said that the Syrian Army has started strengthening its point in the town and cleanse the region from remaining terrorists.