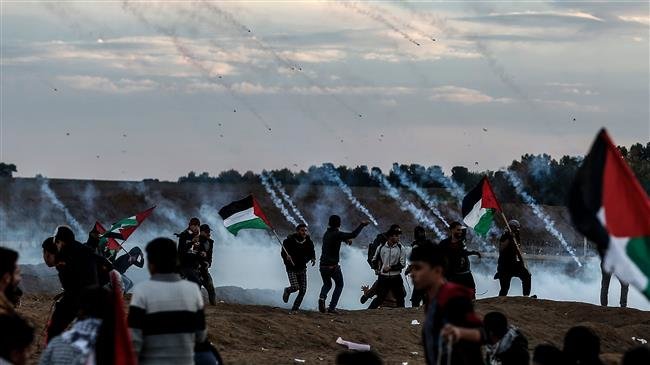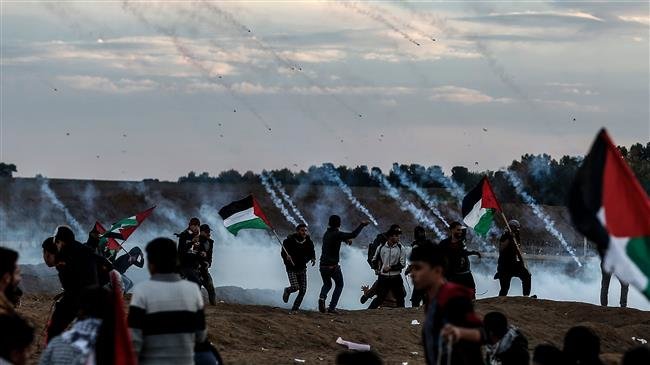 At least 20 Palestinians have been injured as Israeli forces once again opened fire on anti-occupation protests near the fence between the besieged Gaza Strip and Israeli-occupied territories.
Ashraf al-Qedra, the spokesman for the Gaza Health Ministry, said the 20 people were shot and injured in the east of Gaza on Friday.
Hazem Qassem, a spokesman for the Hamas resistance movement, said on Friday that the people's insistence to take part in the protests stresses their determination to achieve the goals of the rallies, especially to break the siege of Gaza.
Gaza has been under the Israeli siege since June 2007, causing a decline in living standards as well as unprecedented unemployment and poverty. It has also witnessed a fresh wave of tensions since March 30, which marked the start of "The Great March of Return" protests.
Nearly 240 Palestinians have been killed by Israeli forces ever since anti-occupation protest rallies began in the Gaza Strip on March 30. Over 22,000 Palestinians have also sustained injuries.
The Gaza clashes reached their peak on May 14, on the eve of the 70th anniversary of Nakba Day (Day of Catastrophe), which coincided this year with the US embassy relocation from Tel Aviv to occupied East Jerusalem al-Quds.
On June 13, the United Nations General Assembly adopted a resolution, sponsored by Turkey and Algeria, condemning Israel for Palestinian civilian deaths in the Gaza Strip.
The resolution, which had been put forward on behalf of Arab and Muslim countries, garnered a strong majority of 120 votes in the 193-member assembly, with 8 votes against and 45 abstentions.