Syria
Terrorists Massacre Syrian Citizens in Homs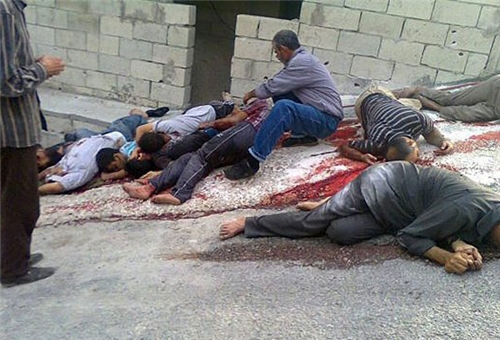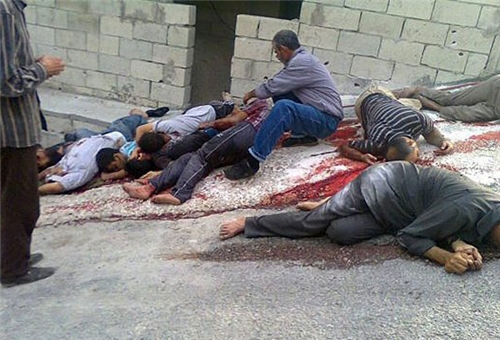 A group of Saudi-backed terrorists massacred a large number of Syrian citizens in Homs in Central Syria.
Sources said the decapitated bodies of a large number of villagers were found in Homs countryside, adding that they were the victims of a crime by Jund al-Sham Battalions, an ultra extremist group supported by the Saudi intelligence agency.
The militants of Jund al-Sham are currently stationed in two villages of al-Zareh and al-Hosn villages in the same area.
Some photos, apparently taken by the members of the same terrorist group, show Jund al-Sham members cut the throats of the victims in the historical castle of Homs where the militants are stationed.
On Sunday, Homs Governor Talal Barazi said that the militants in Syria are forcing residents to stay in the city as the government is trying to evacuate the people who have been suffering from the occupation of the strategic area by foreign-backed militants.
"The evacuation of civilians was not carried out yesterday (Saturday) because some of the armed groups prevented the citizens inside from moving to the transit point to leave," Barazi said in a statement.
The Syrian government has been helping the United Nations and Syria's Red Crescent to evacuate trapped civilians and deliver aid inside besieged parts of Homs since February 7.
The work was made possible by a deal that included a ceasefire which was extended twice, but expired on Saturday.
Syria militants have since stopped people from leaving.
The UN and the Red Crescent were able to evacuate some 1,400 of the 3,000 people who had been trapped in Homs for more than 18 months.