North America
Iran
Middle East
The US delusion of invincibility shattered by Iranian naval forces
The self proclaimed US delusion of invincibility has been shattered by the Iranian navy, once again, as it retook an oil tanker which the US navy had tried to pirate.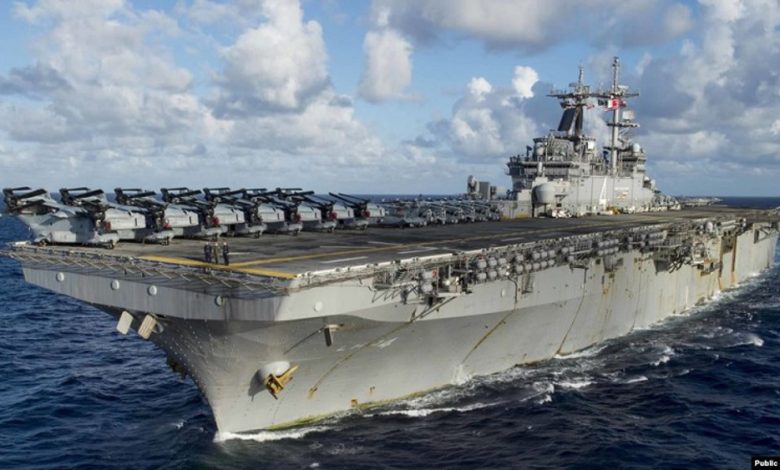 Since the beginning of the cold war America has thought itself invincible. But it could not stop Iran from seizing an oil tanker in recent days.
Whether the US couldn't or didn't want to engage Iran depends on who you hear it from as well as the capabilities and policies of both nations. Hard facts do speak for themselves but appear to have been slow to surface in Western media coverage.
"Iranian forces seized an oil tanker" may sound ominously hostile but Iran says it was just taking back what was its own property to begin with.
Its action also serves as a statement of sovereignty in our strategic southern waters of the Oman Sea.
Looking at the incident in light of rumors may be confusing: A Vietnamese-flagged ship captured by Iran with America showing concern…?
Well there's plenty of footage which speaks for itself and shows precisely what took place.
American forces unlawfully confiscated a tanker that was carrying a cargo of Iranian oil in the Sea of Oman, and transferred its consignment of crude oil to another vessel which they started guiding to an unknown location.
It is true that the US has sanctioned Iran's oil and economy in general, but the sanctions are illegal by a couple of interpretations of international law, so America's seizure of the tanker and its cargo was nothing more, nor less, than an act of piracy. Naturally Iranian forces wasted no time in recovering the oil.
American timing of the incident
The important point is that sometimes there is ambiguity about the nationality of the tanker, and questions are raised about whether it was an American or Vietnamese vessel [sic].

We usually see that some nations use their tankers under other nations' flags and sometimes the crew members aren't even the nationals of that country.

The United States was controlling the ship. It took Iranian oil, transported it to the tanker at sea, and was carrying it toward its own waters. There is no doubt about this. But it has done so under a new appearance and form.

Hanif Ghaffari, International Columnist, Jam-e Jam and Resalat Dailies
Why would the US cause an oil incident, and yet another standoff with Iran, just before Students' day in Tehran not to mention the Vienna talks which the US is almost threatening Iran into?
This stick and carrot policy is a traditional approach the United States has adopted toward the Islamic Republic of Iran, and we have seen many times that the United States, especially under the recent administrations of Presidents Obama, Trump, and then Biden, has repeatedly stated that they are willing to pursue diplomacy on an international stage.

They call for engaging in diplomacy, but in practice, we see they resort to military, security, and political threats to put pressure on the Islamic Republic. This raises a question for the Islamic Republic about whether the US is honest in its words and actions.

Hossein Ajorlu, Analyst, West Asia Affairs
Iranian reaction
Iranian forces landed their helicopters on the second vessel's deck, and navigated it toward Iranian waters, complete with the oil intact.
The IRGC Navy's drone units, speedboats, and other vessels meanwhile, assisted the operation.
The Iranian Oil Minister Javad Owji summed it up by explaining America's intentions saying "Iran's enemies" had resorted to piracy after realizing that the Islamic Republic was determined to export its fuel, despite the United States' sanctions targeting the country.
As for how American forces ever present in our regional waters took action or not, in response to Iran's reaction: Now why would the US cause an oil incident and yet another standoff with Iran just before Students' day here AND the Vienna talks the US is almost threatening Iran into?
The USS The Sullivans (DDG-68) and USS Michael Murphy (DDG-112), two American destroyers, approached the second tanker to prevent its recapture, but were warned away by the IRGC Navy.
After the heliborne operation, US forces started pursuing the second vessel with several helicopters and warships. But they stopped short of capturing it, IRGC public relations reported.
US forces then dispatched more warships to block the vessel that was carrying the stolen crude. But again they stopped short and aborted the operation and area.
The defense and security power of the Islamic Republic of Iran has increased. The Islamic Republic isn't simply making claims, almost all international and regional observers acknowledge that. Nations boost their military and security potentials to increase deterrence against impending threats.

The same seems to have happened in this incident as well. The Islamic Republic has faced the threat and responded to it in the most appropriate way. To that end, it has been willing to conduct a military maneuver. That's because Iran has come to the conclusion that if it does not respond to the US' excessive demands, the vital interests of the Iranian people will be jeopardized.

Hossein Ajorlu, Analyst, West Asia Affairs
If the US expected Iran to sit back and watch, that's exactly what its own forces did while Iran took action.
Iranian policy has been anti-imperialist pro-resistance for decades. Can the US really have expected no reaction from Iran?
Our motto is that if there can't be any oil trade in Iranian waters, this can't be applicable solely to Iran. We won't allow them to sell oil in the region if we can't do the same. Our tanker was navigating on its route before the U-S warship confronted it. But the presence of the IRGC's powerful navy made them give up the tanker so it could return to our territorial waters. We didn't let them prevent us from selling our oil.

Mohammad Hassan Asafari, MP, Internal Affairs Committee
Presently, US invincibility seems like no more than a myth. The US still maintains a presence and even throws about its weight on the world stage. It is powerful, but it's no longer the only big boy on the block. There are upcoming states like Iran and Korea. Iran is an upcoming power, unafraid and reluctant to bow to imperialism and hegemony.
Yes, I believe that the hegemony of arrogance was broken in the aftermath of February 1979. Until then, no one dared to chant slogans against the United States and protest against Washington. But now you see when the American president visits Iraq, an Iraqi journalist greets him with a shoe.

Or when the President of the United States goes to an Asian, African, or even a European country, people greet him with rotten tomatoes. These behaviors did not exist before the victory of the Islamic Revolution.

Mohammad Hassan Asafari, MP, Internal Affairs Committee
And there are two other very powerful nations already on the global stage, Russia and China. America may still be the front runner in military might and technology but it's only a matter of time before it fades into irrelevance, if not obscurity.
Iran has demonstrated how invincibility is a myth, in more than one instance, portraying the US as a Menace and sponsor of terror more than anything else.
In January 2020 [Nabil Qaouk, the deputy head of Hezbollah's executive council, said] … Iran's precision missile strikes at US military bases in Iraq in retaliation for the assassination of Lieutenant General Qassem Soleimani, the commander of the Quds Force of Iran's Islamic Revolution Guards Corps (IRGC), shattered Washington's invincibility myth.and that just marks the start of a possible response. It sent out a message that American targets in West Asia are within reach.
With the given oil tanker incident, one might wonder: How far could the US have gone in reacting and why?
If the Americans wanted to react, they would have done so in the 40 years that have elapsed since the victory of the Islamic Revolution. They have been threatening us militarily, politically, and economically for 40 years. They do not dare to take military action, because today the US Navy's fifth fleet is within the range of our Zelzal missiles and long-range surface-to-sea and anti-ship missiles.

Mohammad Hassan Asafari, MP, Internal Affairs Committee
What do the authorities have to say about the US snatching Iranian oil? And what do the people of the world think of an American presence in global affairs?
With regard to the American presence and the incident in October, the prominent Palestinian Arab journalist and editor-in-chief of Rai al-Youm, Abdul Bari Atwan, wrote: The seizure of Iran's oil shipment by US forces constitutes "the most heinous form of official piracy and a public declaration of war against Iran."
He believes Iran's response to this act of piracy shocked America as it had expected Iran to put up with the blow and not respond.
The Iranian operation to release its stolen oil shipment carried the message that the country's armed forces are not afraid of any military confrontation with the United States, regardless of the cost.
Speaking of what happened in the Oman Sea a week before November 4th: The United States has imposed sanctions on other countries besides us, such as Venezuela, Syria, and several other countries.

Given that we are being asked to sell oil and oil condensate, we won't be losing on both fronts. We don't accept facing sanctions and at the same time being forced to surrender our uranium and centrifuges, ending our nuclear activities and not being allowed to trade oil either.

Mohammad Hassan Asafari, MP, Internal Affairs Committee
Excessive US demands
The Islamic Republic has come to understand that whenever it acts reciprocally in the face of American excessive demands and insists on its own principles in that regard, it will achieve more success and will somehow be able to get what it wants.

Because anytime the Islamic Republic has chosen a peaceful policy and made concessions to the US, practically nothing has happened outside its economy being affected and the other side's demands becoming ever so excessive.

Hossein Ajorlu, Analyst, West Asia Affairs
What we've got, we've got, and with it we can put a dent in the untouchable ghost that was the sole superpower known as America.
For instance, the US spy drone Iran captured after downing it in 2019 utilizing its homegrown air defense missile system called "Khordad-3rd, was one of several chances Iran saw to enrich its domestic military industry.
We saw what happened during the downing of the Global Hawk drone. The American officials initially announced that their drone had been shot down so they needed to respond, but soon we saw that the Trump administration officials thought better of it and didn't do anything.

The other issue was the airstrike on the Ain al-Assad airbase Iran conducted in retaliation for the US assassination of General Soleimani, and the Pentagon's subsequent censorship of the facts.

The Pentagon tried to hide the fact that 110 of its forces suffered concussions and brain injuries. The reason was that according to the strategies the Pentagon, CENTCOM, and White House have laid out, creating unpredictable tensions with Iran would hurt the US interests.

Hanif Ghaffari, International Columnist, Jam-e Jam and Resalat Dailies
The US's congressionally created National Defense Strategy Commission itself reports that Russia and China "possess precision-strike capabilities, integrated air defenses, cruise and ballistic missiles, advanced cyber-warfare and anti-satellite capabilities."
Another congressional watchdog, the US China Economic and Security Review Commission reports that China has recently introduced a new stealth fighter (the J-20) and its "growing ballistic and cruise missile inventory. . . can target US bases and surface ships, including aircraft carriers."
Also Russia claimed to have successfully tested a ship-borne hypersonic missile that travels at roughly eight times the speed of sound, which the US apparently has no defense against.
Among regional countries and beyond, Iran stands out. It has suffered unprecedented US sanctions and pressure, even assassination of its nuclear scientists by US ally Israel. Yet it has stood up to imperialism and hegemony and even managed to greatly resist it.
Well, today the Islamic Republic of Iran has gained considerable capabilities. The capabilities of the Islamic Republic's armed forces are used as deterrence.

Our equipment and facilities aren't dependent on any world power, be it Eastern or Western. Our capabilities originate from the inside.

We currently have anti-radar missiles. We also have radars that can detect anti-radar missiles. We've armed parts of our sea [sic] so we can respond to any threat against the Islamic Republic.

Mohammad Hassan Asafari, MP, Internal Affairs Committee
There is no international trade or political relationship with Iran that is not sanctioned by the United States.
The reinstatement of US sanctions in 2018 after America's withdrawal from the JCPOA, particularly those imposed on the energy, shipping and financial sectors that November, which caused foreign investment to dry up and negatively impacted oil exports.
But Iran succeeded in continuing its economic life and even flourishing in some areas all the same, this caused the US relent and ask Iran to come to the negotiating table.
In the new world, most countries try to make concessions when it comes to the economy and their domestic governance.

The Islamic Republic of Iran entered the JCPOA negotiations due to internal demands But it was faced with the US reneging on its promises.

The Islamic Republic has come to the conclusion that anytime it started a process with the US, it has been the American side that disrupted and challenged it.

Hossein Ajorlu, Analyst, West Asia Affairs
Sanctions and incarceration have encouraged Iran to reinforce its defenses and work on technological advancement; in some fields more than others. Another instance was Trump-USA binning the nuclear deal of 2015 and European parties not managing or wanting to live up to their share of the commitment, Iran revived and tethered its nuclear programme, which it has maintained is peaceful all along, And which it had choked in accordance with the JCPOA.
To mark national nuclear technology day in April, Iran, after the opening week of Vienna talks to revive the JCPOA, began feeding gas to cascades of new, advanced centrifuges and unveiled dozens of "achievements", demonstrating its nuclear programme is peaceful, 133 technological innovations with civilian and medical uses were also unveiled.
Iran turned to the IR6 centrifuge, said to be capable of producing 10 times more uranium hexafluoride (UF6) than IR1, Iran's first-generation centrifuges. Iran can manufacture these machines domestically without the need for materiel or specialists from abroad.
Moreover, mechanical tests began on the top-of-the-line IR9 centrifuge that has a capacity of 50 SWU.
Also in Natanz, a unit to assemble and evaluate advanced centrifuges was launched, In Arak, the second phase of industrial production of deuterium compounds at the Arak Heavy Water Reactor Facility was launched.
Iran's has been enriching uranium to 60 percent of which it now has 25 kilograms.
Would you say given such incidents as the oil tanker snatch and seize back, Iran can serve as a role model to other countries?
Well, following the victory of the Islamic Revolution of Iran, we saw that discursive, political, and ideological branches of Iran's anti-imperialist viewpoint spread across the world, both in the immediate region and other geographical areas including in Latin America.

But let's not forget that when this discourse is coupled with hard and military power, we'd definitely see it grow, or to use a better word, increasingly expand.

Hanif Ghaffari, International Columnist, Jam-e Jam and Resalat Dailies
Apart from the world catching up, the US has also weakened itself by overreaching in its adventurism and venturing into not properly pre-planned wars. In fact former US president Trump had put Iran next on the list.
From the American Civil War through the Korean War, US conflicts have mostly been paid for by taxes and war bonds. But in the post-September 11 era, US military spending has been financed almost entirely through debt.
It took $2.2 trillion to finance the wars in Afghanistan and Iraq, according to figures from Brown University's Costs of War Project. And that sum which is roughly 10% of the country's total gross domestic product, only reflects upfront costs.
Including the cost of interest would add another $2.1 trillion by 2030. And through 2050, the interest alone should top $6.5 trillion even if war spending had theoretically stopped in 2019, according to research published last year by Heidi Peltier, director of the "20 Years of War" Project at Boston University's Pardee Center for the Study of the Longer-Range Future, CBS reports.
Besides the cost of war; there are domestic financial demands President Biden has to address.